The Latest From the BLS Employment Report: 161,000 Jobs Added in October
The US economy added 161,000 jobs in October, and the unemployment rate dropped slightly, according to data released Friday by the Bureau of Labor Statistics. The unemployment rate – which has held at 4.9 percent since the spring – inched up to 5 percent in September but has dropped back down to 4.9 percent this month.
In October, employment continued to trend up in healthcare, professional and business services, and financial services. The change in total nonfarm payroll employment for August was revised up from 167,000 to 176,000 and the change for September was revised up from 156,000 to 191,000. With these revisions, employment gains in August and September combined were 44,000 more than previously reported. Over the past 3 months, job gains have averages 176,000 per month.
Economists' predictions
Economists predicted 175,000 additions ahead of this morning's jobs report and the report did not quite meet expectations. 161,000 jobs were added this month which is nearly in line with the six months growth pattern.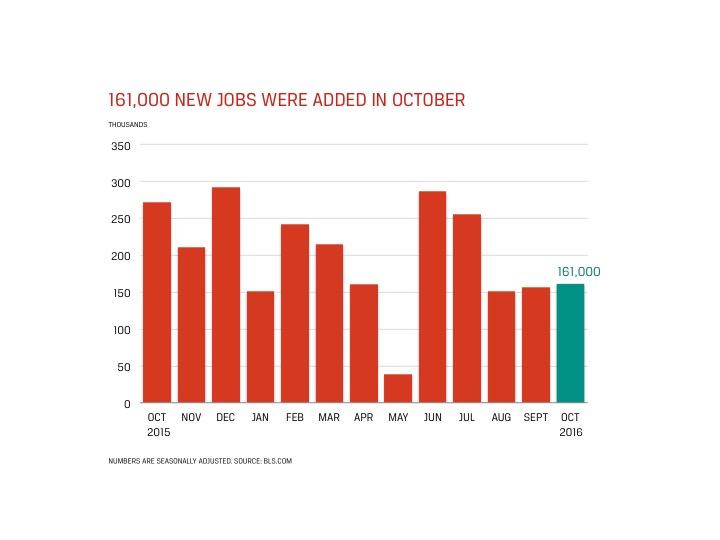 This Month's Report
Let's break down the numbers from this month's report:
In October, hourly wages rose $0.10 to $25.92 per hour, bringing the year-over-year wage percentage increase to 2.8%. The unemployment rate dipped slightly at 4.9%.
Wages:

$25.92 October
$25.79 September

+ 10 cents month-over-month
+ 2.8% year-over-year

Unemployment:

4.9% October

-0.1% month-over-month
-0.1% year-over-year

5.0% September
What does this mean for the accounting and finance industry? Our in-depth analysis is below:
In-Depth Look: Accounting and Finance Jobs
Let's take a look at how the Accounting and Finance industry is performing. Overall, industry subsectors saw job additions month-over-month. Here are some of the highlights:
Financial activities:

Month-over-month change: +14,000
 Year-over-year change: +172,000
Finance and Insurance:

Month-over-month change: +8,800
Year-over-year change: +116,000
Accounting and bookkeeping services:

Month-over-month change: +3,500
Year-over-year change: +38,300

Tweet This: #JobsReport is here! Check out our analysis of the #accounting and #finance market: http://acctprin.us/2eGk9XY
The unemployment rate for financial services decreased slightly and now sits at 2.7% (-0.3% month-over-month). This average sits far lower than the national average. This means, for businesses looking to bring on finance professionals, the market remains extremely competitive. To ensure you're positioning your company as a top employer for job seekers, check out our 2017 Salary Guide.