The Latest From the BLS Employment Report:
The US economy added 156,000 jobs in December according to employment data released Friday by the Bureau of Labor Statistics. The unemployment rate raised slightly to 4.7 percent this month.
In December, employment gains occurred in health care and social assistance. The change in total nonfarm payroll employment for October was revised down from 142,000 to 135,000 and November was revised up from 178,000 to 204,000. With these revisions, employment gains in October and November combined were 19,000 more than previously reported. Over the past 3 months, job gains have averaged 165,000 per month. Private-sector employment is on its longest streak of growth on record.
As 2016 comes to an end, all eyes are on the jobless rate and the wage growth. The unemployment rate, at 4.7 percent, and the number of unemployed 7.5 million, changed little in December. After the rise in average hourly earnings hit a seven-year high of 2.8 percent in October, wages dipped in November, but rose again by 10 cents in December. However, the average increase in hourly earnings is a significant uptick – most likely due to the anticipated FLSA ruling on raising minimum wage.
Economists' predictions
Economists predicted 175,000 additions ahead of this morning's jobs report and the report did not quite meet expectations. 156,000 jobs were added this month which is nearly in line with the six months growth pattern.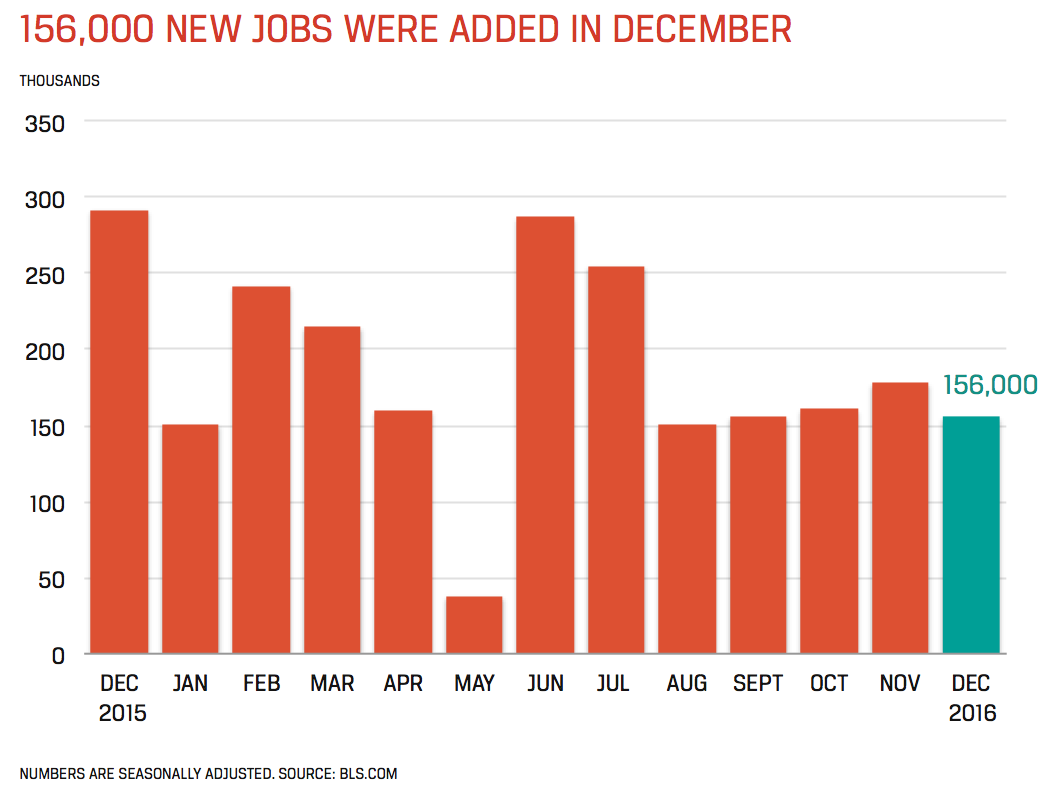 This Month's Report
Let's break down the numbers from this month's report.
In December, hourly wages increased by $0.10 to $26 per hour, bringing the year-over-year wage percentage increase to 2.9 percent. The unemployment rate saw a slight uptick to 4.7 percent.
Wages:

$26 December

+ $0.10 month-over-month
+ 2.9% year-over-year

$25.90 November

Unemployment:

4.7% December
4.6% November
What does this mean for the accounting and finance industry? Our in-depth analysis is below.
In-Depth Look: Accounting and Finance Jobs
Let's take a look at how the Accounting and Finance industry is performing. Overall, industry subsectors saw job additions month-over-month. Here are some of the highlights:
Financial activities:

Month-over-month change: +13,000
 Year-over-year change: +159,000
Finance and Insurance:

Month-over-month change: +12,800
Year-over-year change: +110,700
Accounting and bookkeeping services:

Month-over-month change: -13,200
Year-over-year change: +36,400

Tweet This: #JobsReport is here! Check out our analysis of the #accounting and #finance market: http://acctprin.us/2iO9MH3
The unemployment rate for financial activities dipped and now sits at 2.6 percent (-0.2 percent month-over-month). This average sits far lower than the national average. This means, for businesses looking to bring on finance professionals, the market remains extremely competitive. To ensure you're positioning your company as a top employer for job seekers, check out our 2017 Salary Guide.