The Latest From the BLS Employment Report: 151,000 Jobs Added in August
A slowing down from the gains of the last couple of months was expected ahead of this month's jobs report, but a promising 151,000 were added in August nonetheless.
Job creation has been volatile in recent months, with 275,000 jobs added in July (revised up from 255,000) and 271,000 positions created in June (revised from 292,000), and only 24,000 were added in May. But, this month's report shows promising growth that helps reinforce the upward trend of the last few years.
Today's employment report will be pivotal because it is among the most significant economic data the Federal Reserve reviews before deciding whether to raise interest rates. While the Fed is looking at a variety of indicators to guide their decision on whether or not to raise the interest rate, this jobs report will have one of the heaviest influences. It seems that traders assign a 55.4% chance of a lift in the rate at the Federal Open Market Committee meeting Sept. 20-21.
Economists' predictions
Economists predicted 175,000 additions ahead of this morning's jobs report and the report did not quite meet expectations. 151,000 jobs were added this month which is nearly in line with the six months growth pattern.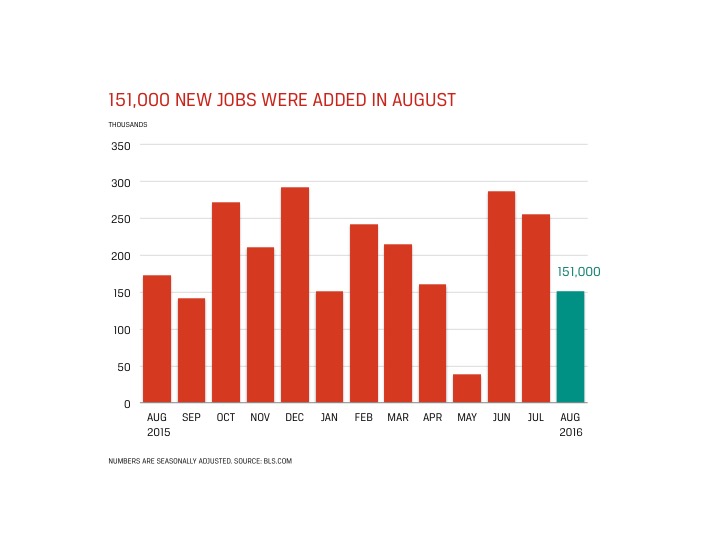 This Month's Report
Let's break down the numbers from this month's report:
In August, hourly wages rose $0.3 to $25.73 per hour, bringing the year-over-year wage percentage increase to 2.4%. The unemployment rate remained unchanged month-over-month and still sits at 4.9%.
Wages:

$25.73 August
$25.69 July

+ 3 cents month-over-month

+2.4% year-over-year

Unemployment:

4.9% August
4.9% July

+0% month-over-month

-0.2% year-over-year
What does this mean for the accounting and finance industry? Our in-depth analysis is below:
In-Depth Look: Accounting and Finance Jobs
Let's take a look at how the Accounting and Finance industry is performing. Overall, industry subsectors saw job additions month-over-month. Here are some of the highlights:
Financial activities:

Month-over-month change: +15,000
 Year-over-year change: +167,000
Finance and Insurance:

Month-over-month change: +14,400
Year-over-year change: +117,800
Accounting and bookkeeping services:

Month-over-month change: +700
Year-over-year change: +35,400

Tweet This: #JobsFriday is here! Check out our analysis of the #accounting and #finance market: http://acctprin.us/2bN5z0C
The unemployment rate for financial services increased slightly and now sits at 2.8% (+0.4% month-over-month). While this is an increase, it is still far lower than the national average. This means, for businesses looking to bring on finance professionals, the market remains extremely competitive. To ensure you're positioning your company as a top employer for job seekers, check out our employer resource center at accountingprincipals.com.