As millions of Americans celebrated Independence Day weekend, the BLS released one of the most encouraging jobs reports in recent memory – "The Employment Situation – June 2013."
According to the report, 195,000 new jobs were generated last month, exceeding a majority of economists' projections, as most financial experts anticipated a rise in employment of 150,000 to 165,000. The national civilian labor force also augmented, rising by 177,000, as total employment was measured at 144.1 million, an increase of 160,000, when compared to May's figures.
Since June 2009, the official end of the Great Recession, 5.3 million new jobs have been added to the national economy, an average of 110,417 per month. In that time, the nation's jobless rate has decelerated considerably, from 9.5 to 7.6 percent, the lowest measurement recorded since December 2008.
Furthermore, the report revealed two substantial job creation revisions, as April and May's total monthly nonfarm payroll employment rose to 199,000 and 195,000, respectively, an increase of 70,000 jobs. As a result of these revisions, 2013's average monthly job creation also upturned, from 189,200 to approximately 202,000.
The total number of workers employed part-time, due to economic reasons, also increased, by 322,000, rising to 8.2 million Economists agree that significant economic progress has occurred throughout the past 12 months. Since June 2012, employment has risen by 1.6 million, whereas unemployment has declined by 924,000. Moreover, the civilian labor force has increased sharply, by 686,000.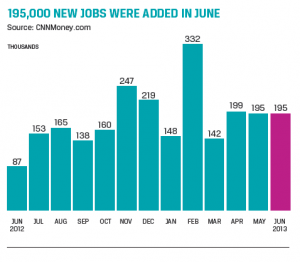 Although the economy's recovery from the Great Recession is occurring at slow but steady pace, a majority of June's jobs report findings appear to indicate that America's employment situation will likely continue to improve throughout the second half of 2013.
As Americans awaited the results of the latest BLS jobs report, many economists projected one certainty would be fully realized: a continuous rise in private sector hiring.
After all, private sector employment had grown every month since February 2010. In fact, sector hiring has been wide-ranging throughout 2013, increasing by 178,000 as recently as May.
Economists' predictions were accurate, as 202,000 new private sector jobs were added to the national economy in June, one of the highest monthly totals reported in recent memory.
Rising for the 40th consecutive month, private sector hiring was particularly robust within the following industries.
Financial Services: After decelerating a bit in May, sector hiring rebounded last month, rising by 17,000. Roughly 12,600 hires were recorded in finance and insurance, whereas real estate generated 4,400 new jobs.
Healthcare: As one of the nation's most reliable employers, the healthcare sector generally releases consistent job figures, as employment tends to rise on a monthly basis. With 19,800 professionals added to payrolls last month, the sector's latest employment figures were no exception.
Leisure and Hospitality: Since June 2012, the sector has created approximately 42,833 new jobs, on average. This pace was nearly doubled last month though, as the sector hired 75,000 new employees, 51,700 of which accepted jobs in food services and drinking places.
Professional and Business Services: Sector hiring continued to upturn last month, rising by 53,000, as workers accepted job offers within a variety of industries, from employment services (18,600) to management and technical consulting services (8,400).
Retail Trade: Employment rose by 37,100 last month, exceeding May's initial figures by nearly 10,000. To compare, since June 2012, employment has increased by 25,008 per month, on average.
Temporary Help Services: Sector hiring augmented for the fifth straight month, rising by 9,500. Roughly 2.7 million professionals are presently employed within the sector.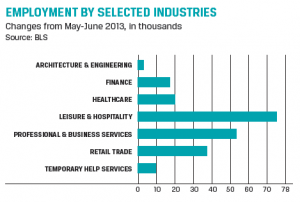 Finance and Accounting Industry Insights
CFOs Plan to Hire in Accounting, Finance and IT
Source: CFO
A survey of CFOs, controllers, tax accountants, human resource directors and other hiring managers released in June shows that companies expect to hire more staff in accounting, finance and information technology over the next quarter.
Nearly half of the 132 U.S.-based firms surveyed from mid-May to early June by accounting and finance search firm Clear Focus in conjunction with Richard Curtin of the University of Michigan said they had unfilled staff positions in those areas for the third quarter of 2013. That's a sharp rise from 30 percent who responded that way in the second quarter of 2013.
 
Bipartisan praise for June jobs report
Source: CBS News
Both Democrats and Republicans applauded a stronger-than-expected employment report released on Friday, which showed that the U.S. economy added 195,000 jobs in June as the unemployment rate held steady at 7.6 percent, though several Republicans warned that President Obama's healthcare law will continue to crimp job growth in the future.
While cautioning that "more work remains to be done," the White House hailed the report as "further confirmation that the U.S. economy is continuing to recover from the worst downturn since the Great Depression," in a statement from Alan Krueger, the head of the president's Council of Economic Advisers.