Projections for the March BLS report suggested positivity with the unemployment rate expected to linger at 7.7 percent and many economists predicting 175,000 to 200,000 new jobs would be created.
So, how accurate were economists' predictions when all was said and done? The March data resulted in a bit of a mixed bag with 88,000 new jobs generated and a slightly lowered unemployment rate of 7.6 percent. The number of jobs added was the lowest seen since June 2012, however, positive news came in the form of January and February's employment figures being revised to 148,000 and 268,000, respectively, perhaps the most positive aspects of the report.
The slightly decreased unemployment rate was attributed to labor force participation figures—as Americans opted not to actively look for work, those 803,000 employees were not accounted for in the report.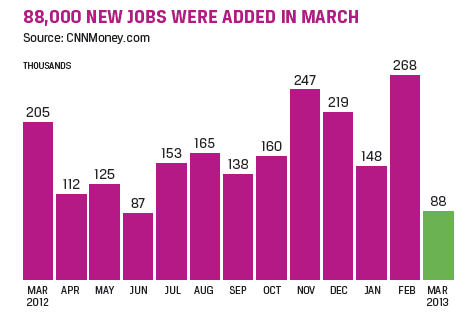 Yet, in spite of this report, economists are remaining optimistic as they look ahead to the future. First, financial experts have discovered that, even though March's employment situation was not nearly as encouraging as expected, 168,000 new jobs have been created per month, on average, in 2013.
Moreover, the total number of workers employed part-time for economic reasons declined by 350,000, generally a sign of economic recovery, while the average hourly earnings for all employees on private nonfarm payrolls continued to increase, rising to $23.82. And, as a final indication of economic progress, the average workweek for all employees rose to 34.6 hours, the highest aggregate since February 2012.
Although the BLS data may be seen as a bit of letdown after robust reports earlier this year, it remains important to keep in mind that the March data was a reminder that although progress is being made in the jobs landscape, there will continue to be bumps in the road. It's now more apparent than ever that growth will be a long incline rather than quick spurts towards total recovery.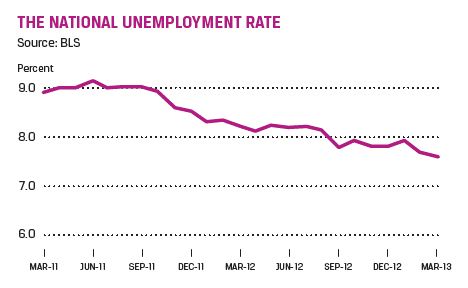 Although some sectors did report job losses last month, like retail trade and manufacturing, the following sectors, among others, still recorded a rise in hiring.
Accounting and Bookkeeping: With 10,700 new jobs generated in March, total sector employment rose to 932,600. As a sign of recent job growth, nearly 28,000 accounting and bookkeeping professionals have been added to payrolls since March 2012.
Healthcare: As a sector known for steady hiring, even in the midst of economic downturns, economists were not surprised by the healthcare sector's latest job figures, as 23,400 professionals were hired last month. More than 14.5 million professionals were employed overall.
Information: Sector hiring continued to increase, rising by 5,000 in March. As usual, more than half of the jobs were filled by the publishing and telecommunications industries. However, motion picture and sound recording hiring remained robust, rising by 2,300.
Leisure and Hospitality: Unsurprisingly, leisure and hospitality hiring continued to increase in March, rising by 17,000. Nearly all of the positions were filled by food services and drinking places, or amusements, gambling, and recreation businesses, matching most economists' expectations.
Professional and Business Services: There was no sign of a deceleration in hiring within the professional and business services sector either, as 51,000 new jobs were generated. Since March 2012, the sector has added approximately 44,416 jobs to the national economy, on average.
Temporary Help Services: Although hiring stalled in late 2012 and early 2013, as the sector recorded job losses in December and January, employment has risen recently. Last month, the sector created 20,300 new jobs; since February, 18,150 professionals, on average, have been added to payrolls.
Industry Insight
Jobs report changes students' employment outlook
Source: US Today
On April 5, the Bureau of Labor Statistics released a report evaluating the job market for recent college graduates. The report indicates that in October 2011, the unemployment rate for 20-to29-year-olds who had graduated with bachelor's degrees in 2011 was 13.5%. While the numbers have fallen since the peak at 17.6% in 2009, they remain higher than pre-recession rates.
The March jobs report released Friday showed that workers ages 25 and older with a bachelor's degree or higher were far less unemployed than those with lower levels of educational attainment. This trend held bachelor's degree or higher recipients at 3.8% unemployment, compared with those with less than a high school diploma (11.1% unemployment).
Overall, the jobs report marked laggard progress for the USA, which added 88,000 new jobs in March compared with the 286,000 added in February.
Read more:  http://www.usatoday.com/story/news/nation/2013/04/08/jobs-report-student-impact/2064211/
Tax Reform Is Very Much Alive and Doable
Source: WSJ
Every week Congress has been in session for the past two years, one of us has made the short walk across the Capitol to the other's office. We crowd into a room with our policy experts to chart a path to our mutual goal—comprehensive tax reform.
While we are from different political parties, we agree that America's tax code is broken. That is why we have been working together as the chairmen of Congress's two-tax writing committees to make it fairer for families and spark a more prosperous economy.
The last overhaul of the tax code was more than a quarter century ago, and there is a need to get rid of its unnecessary complexity. Taxpayers spend more than six billion hours filling out documents to complete filings. They struggle to understand the rules, which amount to almost four million words. That is neither a productive use of time or resources. We can and must do better.
Read more: http://online.wsj.com/article_email/SB10001424127887323611604578396790773598474-lMyQjAxMTAzMDAwODEwNDgyWj.html?mod=wsj_valettop_email