The looming fiscal cliff pushed President Obama and Congress to pass the American Taxpayer Relief Act of 2012. This bill was signed into law by President Obama on January 2, 2013. This has many far-reaching implications for both taxpayers and tax professionals alike. Here are 10 of the most important things to keep in mind as we begin 2013 and wait for further negotiations regarding the fiscal cliff.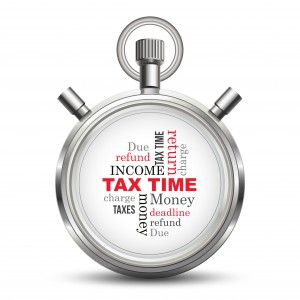 Review and adjust your tax withholding. Many Americans receive a refund when they file their taxes every year. This is tantamount to giving the government an interest-free loan every month. Raising your allowances will cushion the blow, meaning more take home pay and less of a return come refund season. Taxes are set to rise by roughly $3,500 next year.
Estate taxes are changing. The Estate Tax rises from its current position at 35% to 40% for individuals whose income is over $5 million.
The Alternative Minimum Tax patch is set to expire. Without Congress patching the AMT for 2012, tax filers could be subject to lengthy delays in their refund process. Others may be unable to file at all, or subject to much higher taxes as a result of the AMT. Presumptive changes made to the AMT should prevent it from affecting middle class families.
Review your retirement plan. With the passage of the American Taxpayer Relief Act, these plans are no longer the tax breaks they once were. See what can be rolled into your current IRA, if anything, and adjust accordingly.
Check your portfolio. With the Bush era tax cuts now expired and last minute trades complete, browse for stocks and manage your assets and shares wisely as we begin 2013. Check with your financial planner or tax preparer to see how your portfolio will be affected by the fiscal cliff and the changes brought on by the ATRA.
Unemployed? Good news: the ATRA extends emergency unemployment compensations and extended benefits through January 1, 2014. This is crucial to those who were in danger of running out of unemployment benefits with the coming of the New Year.
The 2% payroll tax cut is set to expire. Taxpayers should notice an increase in FICA withholdings from their upcoming paystubs in 2013 and beyond, and adjust for the lost wages accordingly.
Have an income over $300,000? Watch your itemized deductions on your tax return. Although there was previously no limit on itemized deductions for those whose income was over $300,000 jointly ($250,000 for single taxpayers)–there is now a limit to the number of these an individual can claim on their tax return. Ask your financial planner if these new thresholds apply to your situation.
The American Taxpayer Relief Act has raised the top tax rate to 39.6% rate for joint filers earning $450,000. It is important to note that the Bush-era rates remain unchanged for those who have income below these margins.
Lastly, tax rates will remain fixed for individuals, staying at 10%, 15%, 25%, 28%, 33% and 35%. These would have increased by 5% for the lowest income bracket with the expiration of the Bush-era tax cuts, and by nearly the same amount for the highest of earners as well.
Conclusion: The fiscal cliff implications are far from over. Congress has two months to hammer out details regarding America's financial plan for 2013 and beyond, and there is much work to be done. With the passage of the new American Taxpayer Relief Act into law, many Americans now face a new and changing tax landscape. Check with your financial planner to cover anything that may remain unclear to you as the New Year unfolds.