Here at Accounting Principals, we're always looking for the latest industry and workplace insight to share with our clients and job seekers. This year, we conducted a telephone survey among a nationally representative sample of 1,024 working adults 18 years of age and older, living in the United States. This study provides an overview of working Americans' attitudes on compensation in the workplace related to salary, time off, benefits and perks. In this new blog series, we'll break down the results. First, let's talk money.
Cash is king for most Americans
On of the first key findings is that money is more important than time for most Americans. Cash comes first, as the overwhelming majority (79 percent) would prefer a 5 percent raise instead of an extra week of vacation. (20 percent). Income level and seniority within a company makes no difference when it comes to their preference.
This is evidenced by Americans negotiation habits. Prior to accepting a job, Americans are most likely to negotiate on salary (30 percent) compared to a flexible schedule (15 percent) or additional time off (10 percent).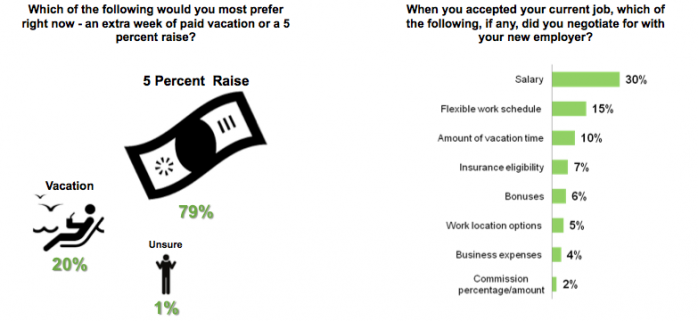 Americans cannot afford to cut their work schedule if it means taking a pay cut
The majority of Americans (85 percent) would not forfeit any of their salary for their workday to be shortened by one hour every day. Among those who said they would not forfeit their salary, half (50 percent) report not doing so because they cannot afford it, while 35 percent are just not interested.
Similarly, the majority of Americans (77 percent) are also unwilling to forfeit any of their salary for their workweek to be shortened by one day. Yet, younger workers value extra time more than their senior coworkers. Millennials are most likely to forfeit their salary for an extra day free, as 30 percent agree to do so, compared to Gen X (23 percent) and Boomers (19 percent). This could be due to the fact that Millennials are a generation of free-spirited individuals that value the work-life balance.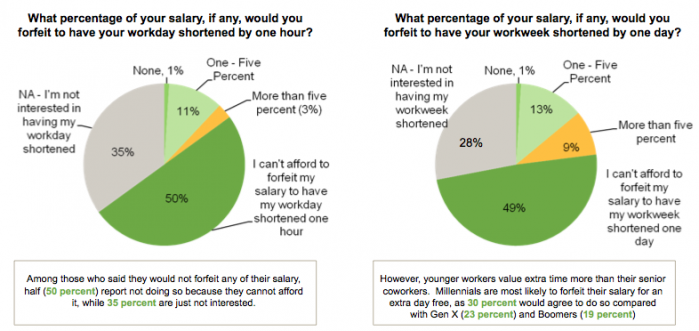 Despite receiving a raise in 2013, most Americans don't feel their lifestyle has improved and admit the extra income is spent on day-to-day expenses
The majority of Americans (58 percent) received a raise in 2013, however, only 16 percent feel it improved their lifestyle. Millennials who received a raise (27 percent) are much more likely to have had an improvement in their lifestyle compared to Gen X (18 percent) and Boomers (10 percent).
Americans who received a raise in 2013 did not spend the money frivolously. Instead, it was used to help with daily living expenses (29 percent), put towards savings (21 percent) and paying off debt (18 percent). Very few used the additional money for fun, such as taking a vacation (5 percent) or making a splurge purchase (2 percent).
Stay tuned to hear more about the results of our Time vs. Money survey! In our next installment, we will discuss key findings about balancing work and life and what types of amenities Americans value in the workplace.
For more industry and workplace insight, visit our Press Room and view our Management Resources!