As mentioned in our previous post, our recent Time Vs. Money survey left us with a lot to think about. We conducted a telephone survey of 1,024 working adults (18 years and older) to provide an overview of working Americans' attitudes on compensation in the workplace related to salary, time off, benefits and perks. On top of findings regarding salary and time off, we found a lot of surprising information about balancing work and life. When it comes to onsite amenities, having a gym could be the way to lure in top talent, and despite gender differences, American workers want time with their families.
Family time is the priority despite other gender differences
Men and women use their spare time differently, but both agree that spending time with family is the priority. Americans are much more likely to say they will work more hours in 2014 compared with last year, than they are to say they will work fewer hours (19 percent vs. 5 percent). Over seven in 10 (74 percent) Americans anticipate working the same as they did in 2013.
When they do have time off, Americans are most likely to spend time with their family (48 percent) or run errands (45 percent) if they were given an extra hour each day. Millennials spend their time outside of work very differently than their older counterparts, choosing gym time, sleep, TV and friends. Gender also impacts the way Americans would spend their extra time. Men were more likely to spend time watching TC (25 percent men vs. 18 percent women) while women were more likely to run errands (38 percent men vs. 51 percent women).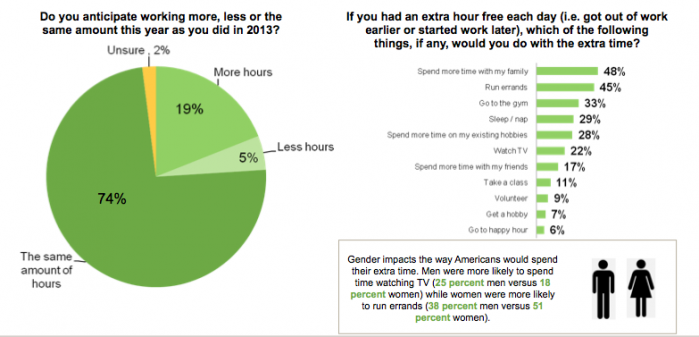 Making everyday activities more accessible could be a way to attract top talent
Staying fit is also a priority for workers. One-third (33 percent) of Americans would go to the gym if they were given an extra hour each day. Younger workers and those with higher incomes are more likely to crave the gym. Millennials (50 percent) are much more likely to spend their extra hour at the gym than Gen X (40 percent) or Boomers (23 percent).
Less productive, but still enjoyable activities like sleeping/napping (29 percent), watching TV (22 percent) and going to happy hour (6 percent) were activities Americans would choose to pass the time if they had an extra hour. Americans will most likely want a gym (28 percent) at their workplace when considering perks that would help them save time. This is followed distantly by onsite cafeteria (13 percent) and onsite doctor or health services (10 percent). While being able to bring your dog to work seems like a "hip" amenity these days, only 4 percent said having a doggy day-care onsite would help them save time.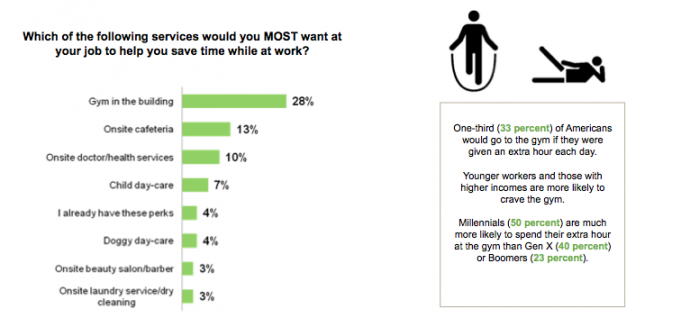 In our next post in the Time Vs. Money series, we'll discuss one of the most interesting findings from our survey… 48 percent of Millennial American workers would take a nap during the workday.
Want more information on what you can do to recruit, retain and inspire top talent in your workplace? View our Management Resources!