Last week, we hosted our very first virtual roundtable to discuss the results of our 2014 Talent Management Survey!
At 2pm on November 14, our Senior Marketing Manager, Lindsey Monroe, met with representatives from some of our largest markets to get valuable insight on compensation and retention trends in the workforce. If you missed it live, you can view the entire roundtable on our YouTube page.
The 35-minute virtual roundtable on our Google+ page featured: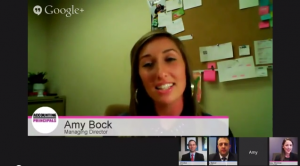 Amy Bock
Managing Director of our Accounting Principals Seattle and Bellevue market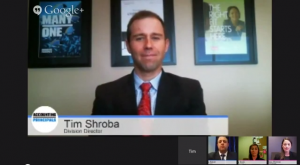 Tim Shroba
Division Director for Accounting Principals in Overland Park, KS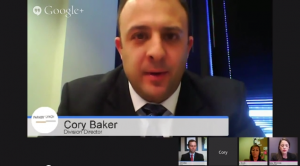 Cory Baker
Division Director for Parker + Lynch (an Accounting Principals sister company) in Denver, CO
Our virtual roundtable provided an insightful look at the trends that are shaping the accounting and finance workforce. Guest speakers revealed trends and statistics from the Accounting Principals 2013 Talent Management Survey, and answered questions from viewers, LIVE. These trends provide strategies and predictions for hiring, compensation, retention and recruiting for the accounting and finance workforce in 2014. Here are a few highlights:
Half (52 percent) of finance hiring managers expects they will increase pay in 2014. Additionally, four in 10 (40 percent) hiring managers have seen an increase in employees asking for raises.
"Since the beginning of 2013, clients were cautiously optimistic but still piling on responsibilities with key players of their team. Now, we are really seeing clients trying to reign back responsibilities with employees or increase their compensation so that they are adequately compensated for the responsibilities that they took on the prior year." – Amy Bock

We are also seeing that smaller entities usually under-compensate their employees, generally speaking. This is the one thing that we can control at the client level, and something that Accounting Principals does pride ourselves in being able to contribute to the hiring process. – Tim Shroba
Only 37% of hiring finance managers say that the number of employees asking for an increase in salary has risen, a total of 52% of finance hiring managers expect they will increase pay in 2014.
"This statistic indicates that hiring managers may be increasing compensation too much. In an attempt to stay competitive to highly desirable candidates, companies are over compensating with compensation. Accounting Principals can help clients make an educated selection to ensure that the candidate's roles and responsibilities match the salary." – Cory Baker

"It may also be helpful for clients to take a look at the 2014 Accounting Principals salary guide. This collection of salary data is spot on for the coming year, and can really help clients to appropriately identify the talent needed in their workforce." – Lindsey Monroe
Approximately four in 10 (39 percent) finance hiring managers say their company has had a harder time retaining talent than it did three years ago.
"The economy has definitely caused this trend- in 2010 no one wanted to leave their positions, afraid tat the alternative was unemployment.In 2010, managers were using the "A players" only and fired everyone else. Consequently, they were overworking them. Employees weren't being fairly compensated for the responsibilities that they were taking on. Now, we are in a different time. Clients feel the pressure to hire more employees in order to take some of the efforts and responsibilities away from the current workforce. It is a priority to hire in order to release some of the burden from clients' "A team" and focus on retention."- Tim Shroba
You can view the entire virtual roundtable on our YouTube page! Don't forget to follow us on Google+ to keep  up with our future virtual roundtables!