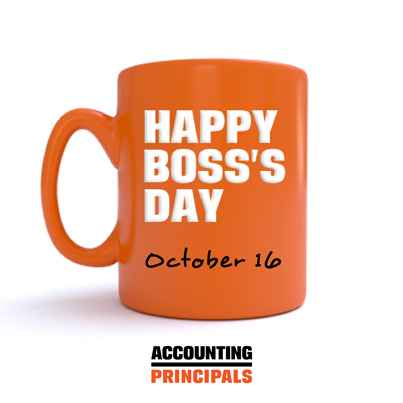 As an accounting and finance professional, you work hard for your customers and your company. But there's one person who can make it a lot easier – your boss.
A great boss can make every minute you spend at work so much more rewarding, successful and enjoyable. If you've got one, be sure to take a minute on Boss's Day (October 16) to thank them for everything they do for you.
Of course, if you really want to show your boss your gratitude (and maybe score some brownie points in the process), you could give them a Boss's Day gift that they can enjoy throughout the year.
And because there are just a few days left until Boss's Day, we want to narrow your shopping list by giving you some great gift ideas specifically for accounting and finance.
Here are our suggestions:
King of the Cubicles poster: Does your boss reign supreme over a kingdom of half-walled office spaces? Then this poster is a great – and humorous way – to celebrate his or her royalty without having to pony up for an expensive throne.
Optimist-Pessimist glasses set: Is your boss a glass-half-empty or glass-half-full kind of person? With these glasses, you'll be covered either way and your boss will think of you the next time he throws back his or her favorite beverage.
Year-End mouse pad: There's nothing finance leaders look forward to more than the end-of-the-year and every time they look down at their mouse, they'll be reminded that it's coming soon.
Personalized golf balls: If your boss fancies himself the next Phil Mickelson or herself the next Annika Sorenstam, this gift should be a hole in one!
Personalized silver money clip: Your boss puts his signature on your company's finances, so why not put his or her initials on his personal finances? This silver-plated money clip can be engraved with three initials for a personalized, classic gift.
Like a boss T-shirt: Give your boss two thumbs up every time they wear this comfy T-shirt.
Whatever you decide to give – even if it's just a thank you – make sure your boss knows how much he or she means to you. If you have some gift ideas of your own, please share them with us!
Happy Boss's Day from Accounting Principals!