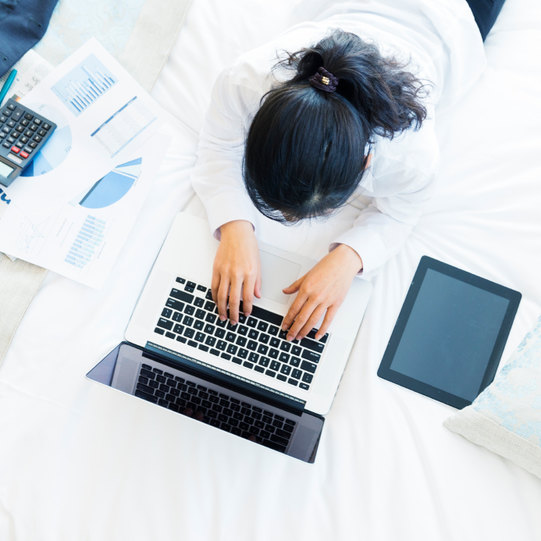 LinkedIn is a tool that absolutely every job seeker should be leveraging. It is the world's largest professional network with over 300 million users. However, it is not enough to simply set up a basic profile and wait for job opportunities to present themselves. Recently, the Accounting Principals team had the opportunity to sit in on a training seminar with LinkedIn team members and gained greater insight into the best practices for optimizing a profile to better position job seekers. We want you to have the best job search experience possible, so we're sharing them with you!
Getting Started
First things first, here are the must haves when first setting up a profile:
A professional name and profile picture. Having a picture makes your profile 7x more likely to be viewed
Your location
A thorough professional headline. The information provided should encourage potential employers and connections to find out more about you.
A summary that expands upon your professional headline and tells those visiting your page a little more about you
Designate your industry
Customize your profile URL to optimize your ability to be searched.
Update your work experience, education, and skills.
Unfortunately this is about as far as many job seekers go when developing their pages. In fact, only 50.5% of profiles are 100% complete by LinkedIn's standards. Fortunately for you, dear reader, many of these users will be your competition that you outperform when you utilize the remaining tips to really enhance your profile!
Join Groups
LinkedIn offers a wide variety of groups across all manners of industries. Joining and participating in relevant groups will allow you to share and read new content, interact with like-minded individuals, and gain new connections. There are more than 200 conversations happening per minute on LinkedIn, so we offer the Accounting Principals' guarantee that you will be able to find something worthwhile to take part in!
Engage, Create, & Share Relevant Content
Like any other social network, one of the primary functions of LinkedIn is to share content and to engage with the content that is shared by your peers. However, the focus of your LinkedIn content should be professional and relevant to your industry. You should also take the opportunity to showcase any presentations that you have created and any blog posts or other content that you have published. Our SVP, Jodi Chavez, underscores the importance of maintaining a dynamic profile saying that, "staying active with posts and valuable insights helps emphasize your expertise." Treat LinkedIn the way your friends who are new parents treat Facebook. Maybe not to that same level of excess, but your work is your baby and you should be proud to show it off!
Make the Right Connections
The "quality over quantity" cliché is especially applicable when it comes to your LinkedIn profile. Having a large network of connections is certainly encouraged, however, it is far more important to make 1st degree connections, LinkedIn's term for people that you're directly connected to because you've accepted their invitation to connect, or they've accepted your invitation. The more 1st degree connections you have, the better you will rank in the site's search results.
Having relevant connections is particularly important for another reason; recommendations. Your 1st degree connections should be the people that you would feel comfortable contacting to write you a recommendation that can be featured on your profile. These recommendations can lend you a great deal of credibility and they are one of the first areas that hiring managers and recruiters look to when visiting your profile.
LinkedIn can be a job seeker's best friend if it's used to its fullest extent. Get your profile set up and optimized today so that you can make the right connections and network your way to a dream position!
Ready to put this advice to good use and take your next career step?