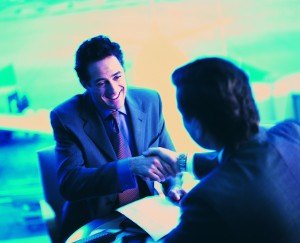 So you've just been promoted to manager — what happens next? In addition to being responsible for your department's goals, complex auditing procedures, and extensive record keeping, you're tasked with the most important job of all — mentorship.
Your team's career trajectories — and personal futures — depend on your willingness to lead. Junior employees will be looking to you for guidance. Mid-to-senior level team members will look to you for enablement.
If you suddenly find yourself in a new leadership or management role — or if you're already an experienced manager — the following leadership tips for new managers can help you excel:
Tip #1: Ask Lots of Questions
"What do you think?" These are the magic words of team-building. At the end of the day, you're group doesn't want to be managed — they want to be empowered to succeed in their passions and roles. They want the freedom and flexibility to grow.
Encourage group discussions, and make it known that your team's opinions are valued. Give less 'direction' and instead — ask your team members to direct you.
Tip #2: Be Vulnerable
Nobody likes a leader who always has to be right. Above all, we're human and susceptible to mistakes. There is no need to hide your weaknesses. Embrace who you are — especially the moments when you're wrong. Your team will only respect and admire you for it — they'll feel more comfortable and come to you with their own mistakes.
Tip #3: Build a Bridge
Multiple tiers of leadership can obscure top-down communication — and confusing messaging can cause employees to become disengaged. As a manager, you're in a unique place to bridge communication gaps — to assess what's happening on a strategic level and to communicate information to your team. You have the opportunity to be a true staple within your organization.
Tip #4: Embrace Career Paths
As a manager, you have significant power — you can help your team advance in their own trajectories. Ask your staff to walk you through their long-term goals and ambitions. Work with them to develop action plans — to help your team members build careers that make them proud.
If you're supportive, your team members will love you — plain and simple. The more value you're able to offer, the harder your team will work to support you. These allies are for life, and their value will be priceless.
Tip 5: Be Constructive
Feedback is a crucial step towards self-improvement. Your team members want your input — to learn how to amplify their results.
When team members ask for feedback, give it. Be constructive, supportive, and forward-thinking. Don't be overly critical and don't nit-pick for the sake of it. Instead, provide one or two actionable takeaways.
Final Thoughts
Don't be afraid to embrace feedback as well. Ask your team members to be open and communicative about your leadership style. After all, you're in this journey together — to learn and grow in your careers.
Hopefully these 5 tips will give you a better understanding of what your people are looking for in a manager, and help you lead your accounting and finance teams to success. For more tips on becoming a more effective manager, managing your workforce, or to add top finance and accounting talent to your team, contact an Accounting Principals office near you.