An employment summary based on the U.S. Bureau of Labor Statistics' (BLS) November 2015 monthly jobs report.
On November 6, BLS announced that the U.S. economy created 271,000 jobs for the month of October. That's a robust increase over last month's weaker-than-expected 142,000 new jobs. The unemployment rate remains unchanged at 5 percent. The civilian labor force participation rate was also unchanged at 62.4 percent.
According to the latest government data, most of the employment gains occurred in professional and business services, health care, retail trade, food services and drinking places, and construction.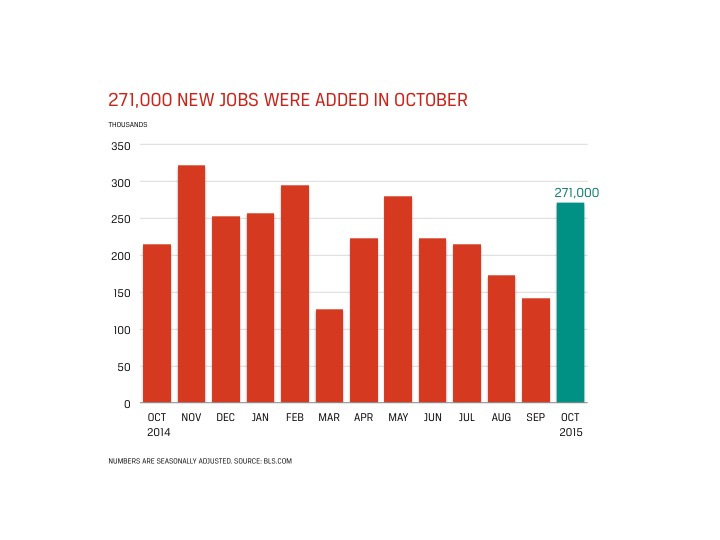 Where the job gains occurred
b
Employment in professional and business services, as well as, healthcare continue to lead the way—just as they have for most of the last couple of years. Here are the increases in employment in a few key industries:
Professional and business services: +78,000
Healthcare: +45,000
Retail trade: +44,000
Food services and drinking places: +42,000
And here's a breakdown of the unemployment rates for major worker groups:
Adult men: 4.7 percent
Adult women: 4.5 percent
Teenagers: 15.9 percent
Whites: 4.4 percent
Blacks: 9.2 percent
Asians: 3.5 percent
Hispanics: 6.3 percent
What this means for accounting/finance job candidates
Experienced accounting and finance professionals and college degree holders continue to enjoy strong hiring demand from employers. Many companies are focusing on governance, compliance, process improvements and data security to meet the challenges of the current business environment.
Accounting and finance are considered among the 20 fastest growing occupations. Secondly, there's a growing talent gap in both professions. Accountants can expect a 13 percent growth in their profession from 2012 to 2022, according to BLS. While financial analysts will see 16 percent growth over the same period. The average growth rate for all occupations is 11 percent.
What this means for accounting/finance employers
New graduates, admin support roles such as AP clerks and bookkeepers, and even experienced professionals can improve their career standing by obtaining project management or IT-related certifications. Employers may want to encourage their staff to stay abreast of the profession's emerging needs, and to retool or retrain accordingly.
More accounting processes are being automated, streamlined and moved to digital platforms such as SaaS and cloud-based services. These non-paper-based practices require new skills and terminology as companies update their recordkeeping practices to match the needs of the digital age.
Employers can take a look at Accounting Principals' Accounting and Finance Salary Guide which can help you make competitive offers that attract top talent.
Key accounting/finance news
Here are recent news that's worth noting.
The 2016 tax filing season promises to be challenging, said IRS Commissioner John Koskinen at a recent AICPA conference. Last year, taxpayers trying to call the IRS during filing season got through to a live person less than 40% of the time, often after waiting on hold for 30 minutes or longer, Koskinen said. The IRS wants to get budget increases from Congress.
The AICPA and NASBA proposing a new status for retired CPAs that would enable them to serve their communities without remaining in active practice as a CPA.
In late October, the SEC adopted new rules on crowdfunding. Companies will be permitted to raise a total of $1 million through crowdfunding in a 12-month period, but the SEC will also implement new reporting and documentation requirements.
For other workplace insights, visit accountingprincipals.com.