An employment summary based on the U.S. Bureau of Labor Statistics' (BLS) December 2015 monthly jobs report.
The U.S. economy added 211,000 jobs in November, beating Wall Street's projection of 200,000 new jobs for the month, according to BLS. The unemployment rate remains unchanged at 5 percent. These figures make it more likely that the Federal Reserve will raise interest rates later this month.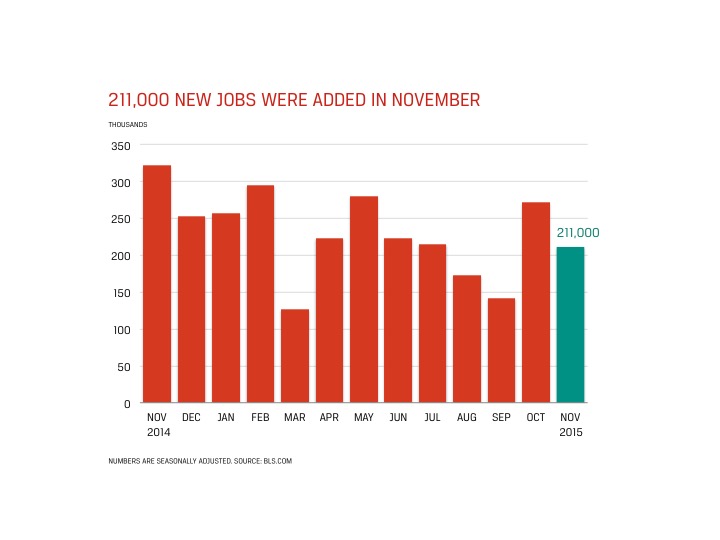 The government also revised employment gains for October and September to show net gains of 35,000 new jobs. October's data, initially recorded at 271,000 jobs, were revised to 298,000. September's count was revised to 145,000 from 137,000 jobs.
ADP's Dec. 2 jobs report estimates that the private sector added 217,000 in November, including the manufacturing sector. While professional and business services continue to lead the way in terms of number of jobs created (+59,000), manufacturing jobs increased 6,000 for the month.
A strong manufacturing industry is seen as key to the creation of higher wage jobs in the U.S.—a key economic trend that can counter the wage stagnation that has persisted since the recession began. Since the end of summer, the U.S. economy has created plenty of jobs in the retail and food sector, but these are seen as low wage jobs with not much disposable income for workers.
American workers continue to increase their productivity. Labor productivity is growing at a 2.2 percent annual rate, according to BLS. While compensation per hour is growing at a 4 percent annual rate, it remains to be seen whether this is a sustainable trend. The economy has not supported meaningful wage increases for the past few years. With a historic low labor participation rate that sees nearly 95 million Americans without a job, many in Wall Street remain skeptical about the strength of the economy, and whether it can support a hike in interest rates by the Federal Reserve.
What this means for accounting/finance professionals
According to BLS, accounting and bookkeeping services added 11,100 jobs in November. Financial activities showed gains of 14,000 jobs for the month.
Accounting and finance graduates remain among the most in-demand college degree holders in the nation. Employees with years of experience and who possess well-regarded credentials, such as a CPA or CFA, have plenty of career options as well as prospects for salary increases.
The industry continues to have a talent gap because older Baby Boomers are headed for retirement, and there are many more accounting and finance vacancies than there are skilled workers who can fill them.
Accountants can expect a 13 percent growth in their profession from 2012 to 2022, according to BLS. While financial analysts will see 16 percent growth over the same period. The average growth rate for all occupations is 11 percent.
What this means for employers
More employers are offering higher compensation to recruit or retain accounting and finance talent. Companies can check out our 2016 Salary Guide to see the latest hiring trends.
Employers are increasingly putting their accounting and finance staff in cross-functional teams, such as information technology, data security, and ethics and governance. These roles require multi-disciplinary skills on the part of employees.