March brought 126,000 new jobs to the economy while the unemployment rate remains at 5.5 percent, according to the U.S. Bureau of Labor Statistics.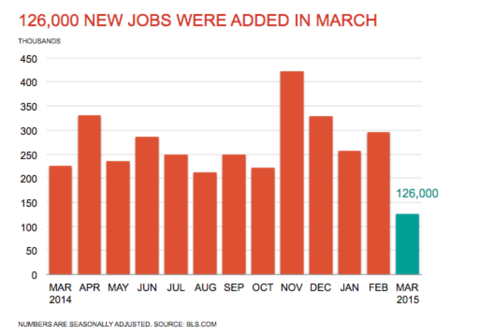 Hiring numbers are low despite a high demand for talent
Nonfarm payroll employment increased by 126,000 in March compared to gains averaging 269,000 over the prior 12 months. Job openings increased 168,000 but the hiring rate remains steady. Employers seem to be having a hard time matching their needs to the available talent.
The employment change for February revised down from +295,000 to +264,000, and the change for January revised down from +239,000 to +201,000. Incorporating revisions, employment has increased by an average 197,000 per month over the past 3 months. Average hourly earnings for all employees increased by 7 cents in March. Hourly earnings are up 2.1 percent over the year. Last month, average weekly hours edged down 0.1 hour to 34.5 hours.
The Labor Department states that layoffs decreased 7.6 percent to 1.6 million, the lowest level in 16 months. This can mean a high degree of job security for those Americans who are employed.
Professional and business services sector
Last month's biggest employment boost came in professional and business services, covering everything from accounting and scientific research to computer systems design. That sector added 40,000 jobs. Job growth in the first quarter of 2015 averaged 34,000 per month in this industry, below the average monthly gain of 59,000 in 2014. Within professional and business services, employment continued to trend up in architectural and engineering services (+4,000), computer systems design and related services (+4,000), and management and technical consulting services (+4,000).
Unemployment in the financial activities sector dropped to 2.6 % for the month of March, down from 3.1 % as reported the month prior.
Will wages continue to increase due to hiring demands not being met?
Some economists say employers aren't offering enough pay to fill their available jobs. Rising openings could force businesses to offer higher wages. Average hourly earnings rose 0.3 percent in March, a sign wages may be perking up. But they're still just 2.1 percent higher than a year ago.
Jodi Chavez, senior vice president for the West Coast division of Accounting Principals, believes wages will finally see an increase. "Over the last six months we've seen increases in salaries to the point where we are losing candidates to other offers," she said. "One out of three employers are now willing to increase salaries above what was initially offered if the right candidate comes along. Wage increases will continue this year because there continues to be a shortage of skilled labor and that will drive up salaries."
For more insight on the salary predictions for 2015, request your free copy of the 2015 Accounting Principals Salary Guide. 
Accounting Principals keeps employers up-to-date on monthly employment and hiring trends, specific to the accounting and finance industry. To learn more about today's changing economic landscape, and to discuss your 2015 hiring strategy, contact an Accounting Principals representative today.
Sign up to receive future Jobs Reports
You'll get instant updates and analysis on the latest workforce and hiring trends impacting the accounting and finance industry.
[subscribe2]