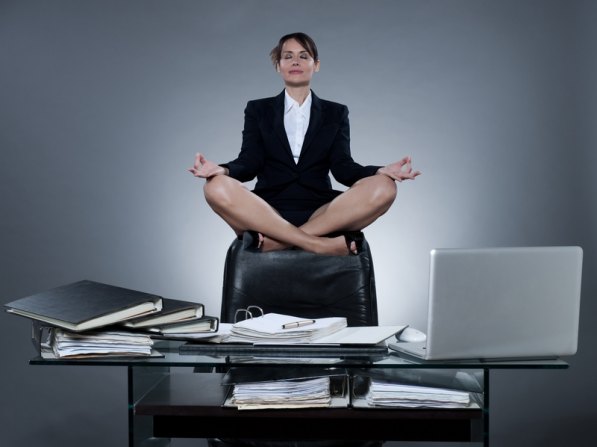 Accountants spend a lot of time at their desks — and that's not okay. Research shows a clear correlation between long periods of sitting and adverse health outcomes such as heart disease, diabetes, obesity, and stroke. The fact is that the human body was built to be upright and active — your desk is the polar opposite of a healthy lifestyle.
Luckily, there are steps you can take to be healthier in your daily routine. Here are 5 easy ideas to get started.
1. Stand
Alternate between standing and sitting at your desk until you can consistently stand for several hours straight. You may want to ask your employer to match you with a standing desk — or set up standing stations at the office.
If you don't feel comfortable asking for this level of investment (or if your employer says no), you can purchase or design your own desk attachment. Standing takes practice — but the more you stand, the more stamina you'll have.
2. Take Stretch Breaks
Yoga is a great option here. Ask your employer to hire an instructor for approximately $250-$300 a session, or host a group session in a conference room with a streaming Amazon Prime subscription. If you're concerned about what to wear, check out Betabrand, a company that makes work-appropriate yoga attire. Stretching — with yoga especially — will increase circulation and improve your ergonomics. Do it often.
3. Be Dedicated to Gym Time
High-intensity aerobics and strength training are crucial. The challenge — understandably — is that it's hard to find the time. Going to the gym is easier said than done, but part of the challenge is simply setting time for yourself and going. One way to get started is to put gym time into your calendar, so that you can prioritize your workouts like any other meeting. The more you plan your routine, the more likely you'll be to go.
4. Keep Healthy Snacks with You
Out-of-control snacks like chips, soda, and ice cream are deadly. As tempting as it seems, don't eat out of your company vending machine. Bring your own food — keep veggies, proteins, and snackables in your office fridge and desk. The delicious doughnuts and cake just aren't worth it.
Try to encourage your employer to stock your fridge with healthier foods. A balanced diet will ultimately yield a more productive workforce.
5. Ask for Flexibility
Flexibility will help you establish healthy patterns in your work cadence. Work out in the morning or during your lunch breaks — see if you can leave the office early and wrap up your day from home.
Even one work-from-home day can make a world of difference in your fitness routine. The more you're in control of your schedule, the more empowered you'll be to manage your health.
Final Thoughts
Staying healthy is an art — which is why we're opening the floor for comments. What techniques have you found helpful for staying healthy at your desk job? Feel free to share your thoughts in the comments section below.
Subscribe to our blog!
You'll get instant updates and analysis on the latest workforce and hiring trends impacting the accounting and finance industry. [subscribe2]