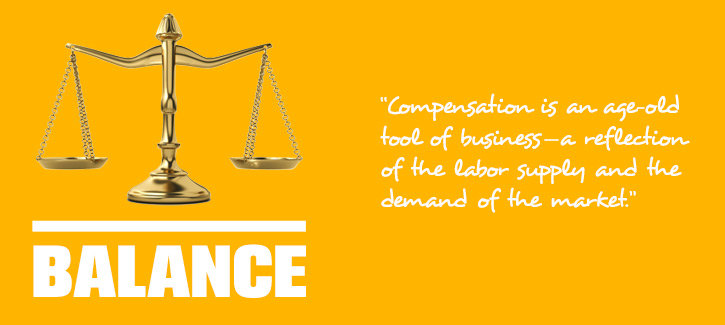 Compensation is an age-old tool of business—a reflection of the labor supply and the demand of the market. The word salary is actually derived from the Latin word sal, meaning "salt." According to Jack Weatherford's The History of Money, once upon a time, merchants in Africa mined slabs of pure salt, which were easily cut into standardized sizes and used as a form of payment for goods and services.
Interesting, right? But let's jump ahead to present day and discuss accounting and finance salaries—in the form of actual cash.
Too often today, salary negotiations between companies and accounting and finance job seekers share common ground with antiquated trading practices. Salary conversations start to feel like a trade and barter transaction instead of a professional negotiation based on data. Giving in to small salary increases may seem like an easy way to gain a highly sought after candidate, but is it in your company's best interest?
For example, a $5,000 bump in starting salary may seem like a small concession to obtain a fresh accounting graduate, but according to one study, such a modest increase could potentially add up to several hundred thousand dollars in extra compensation over the course of an entire career. For employers, there's a lot at stake—especially over the long haul—to getting the wage numbers right. Depending on your company's needs, some talent is worth the risk, while other talent is not.
These days, you may encounter more skilled job seekers who have lofty financial aspirations. That's because there's a shortage of experienced talent in accounting and finance, and prized candidates tend to be heavily courted. Younger workers who possess at least a bachelor's in accounting or finance are some of the most sought after degree holders. And according to the U.S. Bureau of Labor Statistics, accounting and finance jobs are among the fastest growing through 2022.
So while job candidates have gained leverage over employers, they can't simply name their salaries—especially when their potential employer is equipped with the latest salary data. The more knowledge you have about salary trends, the more you improve your bargaining position when faced with skilled candidates who have high salary expectations. Make sure you're in the best position to land top talent—without overpaying by a mile—by getting familiar with 2016's salary figures. And not just salary figures in general, but figures unique to your company's size and location.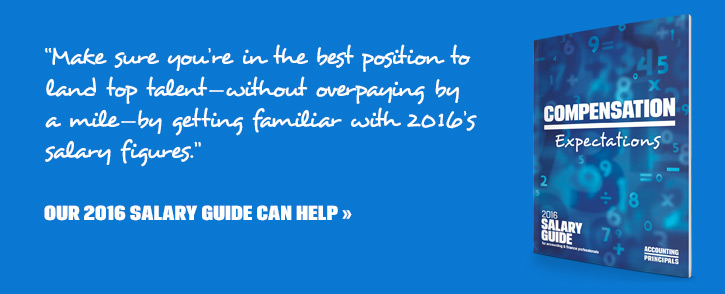 2016 Salary Guide
In Accounting Principals' 2016 Salary Guide, we provide you with a toolkit for making appropriate, competitive job offers to promising candidates. Our data includes a breakdown of:
Salary levels for a comprehensive list of accounting and finance positions
Base salary comparisons by company size
Job descriptions for various accounting and finance positions
Variances and cost-of-living adjustments for local job markets throughout the country
For employers, knowledge of the market's labor dynamics can increase the likelihood of landing a prized recruit, and a well-informed HR manager can be in a better position to make an appropriate job offer. As labor supply and demand continue to evolve to favor accounting and finance professionals, you can benefit from having accurate salary data to better attract and retain key talent.