MAY ADDED 280,000 NEW JOBS, WHILE UNEMPLOYMENT RATE INCREASED SLIGHTLY TO 5.5 PERCENT, THE U.S. BUREAU OF LABOR STATISTICS REPORTED.
The professional and business services sector continues to lead job growth and added 63,000 jobs last month. The sector has added total of 671,000 jobs over the year. Health care and leisure and hospitality also contributed to the economy's job growth.
In May, employment increased in computer systems design and related services (+10,000), management and technical consulting services (+7,000), and in architectural and engineering services (+5,000). Employment with temporary help services continued to rise and brought an additional 20,000 jobs to the economy last month.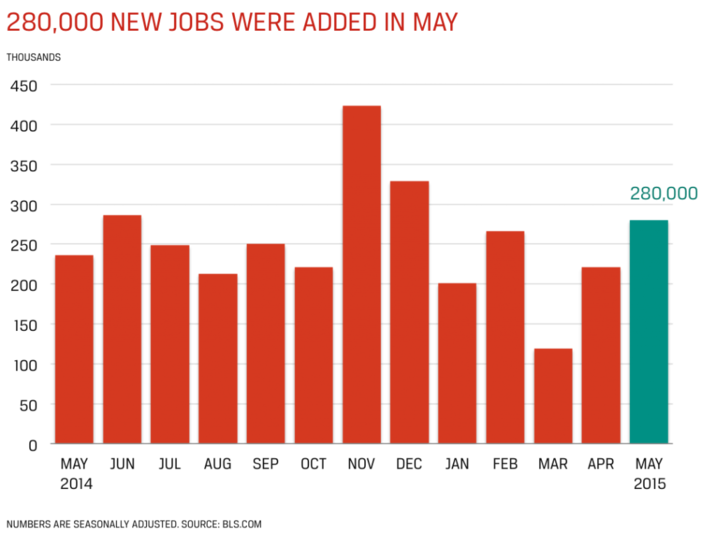 FINANCIAL ACTIVITIES INDUSTRY CONTINUED TO INCREASE THIS MONTH
Among the professional sectors, the financial activities industry continues to grow adding 13,000 jobs in May. Over the past year, the industry has added a total of 160,000 jobs, with about half of the gain in insurance carriers and related activities.

As the national unemployment rate remains stagnant, the unemployment rate for those in management, business, and financial operations occupations is at 2.4%, down from 3.1% this time last year. In particular, bookkeeping, accounting, and auditing clerks are among the 20 occupations with the highest projected numeric change in employment. The BLS projects 204,600 new jobs will be added to this occupational sector by 2022. As the number of organizations increases and financial regulations become stricter, there will be greater demand for these workers and the job market will be in favor employees and job seekers.
JOB GAINS ARE AVERAGING 207,000 PER MONTH, OUTPACING TALENT SUPPLY
In an Accounting Today article, Mark Zandi, chief economist at Moody's Analytics, points out that the average monthly job gains indicate we're closing in on full employment.
"That pace is double the rate necessary to absorb the growth in the working age population," he said in a conference call with reporters Wednesday. "If labor force participation just remains constant and the labor force grows at the rate of the working age population, the current rate of job growth will continue to push down unemployment and underemployment. And if we maintain the current rate of growth—which I think is likely—the economy will be back to most estimates of full employment, including my own, by this time next year. I think the economy is quickly closing in on full employment now."
Companies are hiring (there were 5 million job openings on the last business day of March). As more jobs are added, opportunities will present themselves for those who know how to take advantage of them.
For more insight on the pending accounting and finance talent shortage, your download your free copy of our Talent Shortage White Paper.
Accounting Principals keeps employers up-to-date on monthly employment and hiring trends, specific to the accounting and finance industry. To learn more about today's changing economic landscape, and to discuss your 2015 hiring strategy, contact an Accounting Principals representative today.
Sign up to receive future Jobs Reports
You'll get instant updates and analysis on the latest workforce and hiring trends impacting the accounting and finance industry.