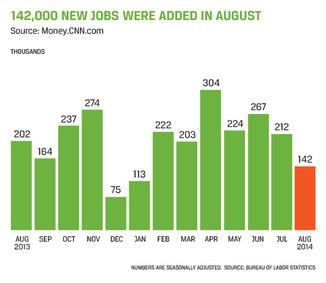 Jobs Report Summary For The Finance and Accounting Industry. Based on the BLS report with August 2014 data.

For the month of August, the Bureau of Labor Statistics recently released that the U.S. workforce added 142,000 jobs. With economist's prediction of at least 225,000 jobs to be added in August, the surprisingly low number has many puzzled as to why there is such a decline from the past six months averaging +200,000 jobs per month.
The unemployment rate decreased from a 6.2% to a 6.1%, as well as the labor force participation rate, falling to 62.8% from 62.9% in July. While the 142,000 jobs added in August initially seem discouraging, wages grew 2.1% year-over-year, and 0.2% month-over-month, which does not indicate a slowdown of the economy. Most likely, the August numbers will be revised by the end of September to reflect a more positive trend of hiring with teachers returning to school and retailers beginning to ramp up for the holidays.
The July jobs report was also revised up slightly, to 212,000 from 209,000, while June's report was revised down to 267,000 from 298,000. Economists initially declared a full recovery from lost jobs in 2008, but with August's reported numbers, can we fully see an upward trend to job growth?
PROFESSIONAL & BUSINESS SERVICES AND TEMPORARY EMPLOYMENT
The professional and business services added another 47,000 jobs in August, for a yearly gain of 639,000 jobs. The sector continues an impressive reign, making it one of the largest sectors of growth in the workforce.
Within the 47,000 newly added jobs, the financial activities sector added 7,000 jobs. Over the past three months, 31,000 financial jobs have been added, making it the largest streak for the sector this year.
The BLS also reported that the temporary help services added roughly 13,000 jobs in August, an increase of 4,500 jobs from July. Economists speculate if Americans are returning to the workforce, but not necessarily in full time roles, which would reflect the gain in temporary services.
PROFESSIONAL AND BUSINESS SECTOR WAGES
For the month of August, wages for the professional and business sector increased $0.04 cents from July. As mentioned earlier, wages grew 2.1% year-over-year, and 0.2% month-over-month, which is why the lack of hiring for August was a bit of surprise.
We can only hope that August's reported numbers will improve through the month of September to reflect the previous five months of job growth. With a rather slow economy, the bandwidth of job growth will be limited, but a significant drop off for the month of August may be a cause for concern.
Sign up to receive future Jobs Reports
You'll get instant updates and analysis on the latest workforce and hiring trends impacting the accounting and finance industry. [subscribe2]