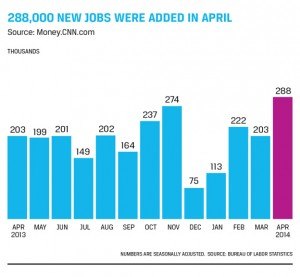 Jobs report summary for the Finance and Accounting industry. Based on the BLS report with April 2014 data.
The Bureau of Labor Statistics revealed that employment in April added 288,000 jobs, almost 70,000 more than economists were projecting.  The increase in jobs has triggered the unemployment rate to decrease from 6.7% to 6.3%, which is the lowest since before the financial crisis.  While March's job report seemed like a milestone for the economy, could April's reported numbers be the catalyst for an upward trend?
The influx of newly reported April jobs have a positive outlook at first glance, yet the unemployment rate sings to a different tune. The drop in percentage rate is mainly due to the labor force participation rate, which came in at 62.8%; its lowest point in decades, down from 63.2% in March. When the unemployment rate drops, it usually correlates to Americans leaving the labor force, yet the reported numbers reveal that re-entrants and new entrants entering the workforce never happened.
The increase in jobs for April reflects that the long and overdue winter is near end, and employers are back to hiring. While a significant jump in numbers looks promising, there's still a very long and steady road to fully recovering from the financial crisis.
PROFESSIONAL & BUSINESS SERVICES AND TEMPORARY EMPLOYMENT
The professional and business services industry added 75,000 jobs in April, one of the strongest sectors for job growth. Over the past 12 months, it has added more than 660,000 jobs!
Within the 75,000 newly added jobs, the financial activities sector added 6,000 jobs, which is a steady increase from March. This may be an indicator that the economy is ready for growth within the financial markets.
In April, the Temporary Help Services continued to grow, adding roughly 24,000 jobs. While this a slight decline from March (28,500 jobs), it could potentially foreshadow current temporary positions are in transition to full time employees.
PROFESSIONAL AND BUSINESS SECTOR WAGES
For the month of April, wages for the professional and business sector dropped 3 cents from March, yet are still up 43 cents from last year. While jobs have significantly increased for April, the labor participation rate and unemployment rate are proving to be a thorn in side of workforce recovery.
While the following next months should provide jobs over the 200,000 mark, the real issue is the unemployment and labor participation rate. With the economic crisis still bearing its ugly face within America's recovery, a slow and steady increase in jobs will be the only solution until all jobs are fully recovered.
Sign up to receive future Jobs Reports
You'll get instant updates and analysis on the latest workforce and hiring trends impacting the accounting and finance industry.
[subscribe2]