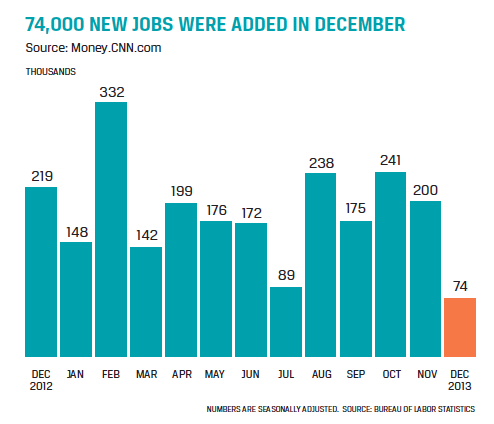 Disappointing December Jobs Report Baffles Economists
The BLS "The Employment Situation – December 2013" jobs report has caused the most confusion and disappointment in years. Although 197,000 jobs were expected to add to the economy in December, only 74,000 jobs were added to nonfarm payrolls. Before the December report, the US employment situation was averaging 204,000 new jobs on a monthly basis (August-November).  Economists were baffled, as the report shows a gain of just 74,000 jobs in December 2013. This number is the smallest gain seen in the US since 2011. For a more in-depth look at the report, contact your local Accounting Principals office.
What is to blame?
It is normal for December to see a decrease in jobs, as the Holiday season creates empty offices. But this December was hit by other factors that significantly impacted hiring. One huge factor was the Polar Vortex. The deep freeze that caused high electric bills, water pipe damage, closed offices, and thousands of cancelled flights is expected to cost the US $5 billion. Outdoor industries took a huge hit, such as construction, which added 16,000 less jobs in December than November. Aside from weather, the country has also battled widespread flu outbreak. According to the Centers for Disease Control and Prevention, widespread influenza activity has been reported in 40 states. With a combination of weather, holidays, and illness, it could also be said that job seekers had little motivation to hunt for jobs in December. Additionally, many retirees could be factored into this number, as more and more baby boomers opt to leave the workplace.
Some Industries Beat the Odds
Despite a loss of commercial banking positions, the Financial Activities sector reported its second consecutive month of job growth in December. 4,000 new jobs were generated in all, as rental and leasing service companies and insurance carriers hired. Professional and Business Services added 19,000 new jobs in December. Within the last 12 months alone, the sector has generated 637,000 new jobs. Within this sector, Accounting and Bookkeeping Services added 24,700 less jobs in December than November 2013. Although hiring is slow, this number will rise as new hires are needed for tax season. As evidenced by December's jobs report, employers are still seeking the services of workforce solutions companies to fulfill their staffing needs. In December, the Temporary Help Services sector reported its eleventh successive month of job creation, with 40,400 new jobs generated in all. 2.8 million workers were employed within the sector.
Be a part of the conversation! Tweet and share this post on social media with your own insight using the buttons below!