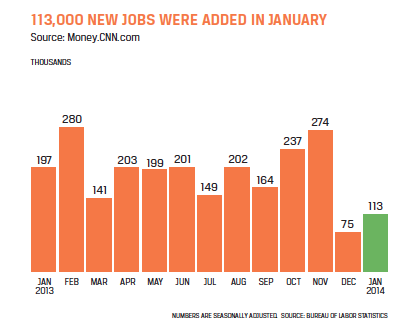 GAINS, REVISIONS & SHORTFALLS 
The BLS "The Employment Situation — January 2014" report revealed only 113,000 new jobs were added to the United States economy — once again, thousands less than expected by economists.
After a disappointing December report with only 75,000 jobs added, January marks the second month in a row that has come up short. Prior to these reports, the United States was reporting an average of 204,000 jobs added month over month from August to November 2013.
REVISIONS ON PREVIOUS NUMBERS ADD UP TO GOOD NEWS 
The January report also showed revisions to the November and December numbers released. An additional 1,000 jobs were added to December 2013, and 33,000 were added to November 2013. This makes the total number of jobs added in November 2013 a pleasing 274,000, the highest total since January 2012. These revisions are proof that despite a few bumps in the road, the US economy is in fact growing.
THE FORECAST FOR THE JOB ECONOMY
As mentioned in our previous report, many blame harsh temperatures for the recent decrease in employment numbers. However, the BLS has stated that, "In order for severe weather conditions to reduce the estimate of payroll employment, employees have to be off work without pay for the entire pay period." Unfortunately, only future data will tell if this is truly the case.
The report also reported that the unemployment rate dropped marginally in January, sitting currently at 6.6 percent. This number is almost that of October 2008's 6.5 percent unemployment rate. The past three months have shown a steadily declining jobless rate, with each month dropping by 0.6 percent.
AN OPTIMISTIC OUTLOOK FOR ACCOUNTING & FINANCE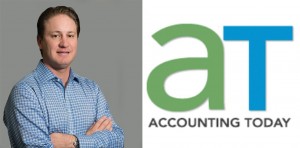 In the accounting and bookkeeping services sector, employment grew by 5,000 and temporary help services employment added 8,000 jobs in the month of January. Job growth in this sector averaged 19,000 per month in 2013. Accounting Principals Senior Vice President, Trent Beekman, sat down with Accounting Today to discuss the growing sectors.
"If you look at the numbers and drill down, we're seeing a pretty good pickup in what we would see as traditionally slower months, which is November, December and January," he said. "The demand we see shows there is not as much supply, which makes it a favorable candidate-based market. That's continued to be pretty strong for the last 18 to 24 months."
Accounting Principals has seen its typical demand for temporary help during audit, tax and budgeting season. "That's a time when temporary and seasonal employment picks up because of the demand for tax, really until sometime through the extension period," he added.
In a candidate-based market, finding top talent is the key to success. At Accounting Principals, we align top accounting and finance professionals with great companies to create businesses that prevail in all economic circumstances. Contact your local Accounting Principals office today!