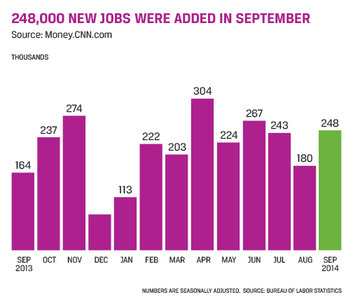 Jobs Report Summary For The Finance and Accounting Industry. Based on the BLS report with September 2014 data.

For the month of September, the Bureau of Labor Statistics recently released that the U.S. workforce added 248,000 jobs, substantially outperforming economist's prediction of 215,000. The upward surge of newly added jobs caused the unemployment rate to decrease from a 6.1% to a 5.9%, the first time it's reached below 6% in six years.
Not only was the month of September impressive for job growth, August's numbers have been revised from 148,000 to 180,000 jobs, as well as a bump in July's numbers, from 212,000 to 243,000.
As if the numbers weren't already positive, the newly added jobs were in the right places within three of the four sectors with the strongest growth — business services, construction and health care — being areas where people can have careers and not just short-term jobs. When careers are created more than just jobs, it gives the opportunity for a larger wage growth within the workforce.
PROFESSIONAL & BUSINESS SERVICES EXPLODE
The professional and business services added another 81,000 jobs in September, which completely overshadows its monthly average gain of 34,000 in the past 12 months. The professional and business services sector is clearly the leader in job growth, and continues to be the focal point of newly added jobs.
Alongside the 81,000 newly added jobs, the financial activities sector added 12,000 jobs. Within the last four months, the sector has added 43,000 jobs, the largest consecutive streak within the year.
The BLS also reported that the temporary help services added roughly 19,700 jobs in September. The reported numbers for the temporary help services have both pros and cons, reflecting that many are willing to accept temporary positions until a full time opportunity presents itself, but this can be combated due to the labor participation rate slightly declining from a 62.8% to 62.7%.
 PROFESSIONAL AND BUSINESS SECTOR WAGES STALE
For the month of September, wages for the professional and business sector only increased $0.02 cents from August. These reported wages are a bit discouraging from the overall positive growth of jobs for the month. While it's always a benefit that the U.S. workforce continues to growth, wage growth needs to improve in order to support the newly added jobs as well as the economy. The true testament to a staggering and flourishing workforce is when the U.S. workforce is consistently adding new jobs each month, along with average wages increasing along with the labor participation rate.
Sign up to receive future Jobs Reports
You'll get instant updates and analysis on the latest workforce and hiring trends impacting the accounting and finance industry. [subscribe2]