An employment summary based on the U.S. Bureau of Labor Statistics' (BLS) February 2016 monthly jobs report.
National Employment Figures
There is still job growth, but it's slipping. In January 2016, nonfarm payroll employment increased by 151,000, less growth than recent months (it was 292,000 in December 2015). Specifically, for "financial activities," employment climbed by 18,000 jobs in January 2016.
Even though job growth has slowed, it was still stout enough to drive the unemployment rate down. We've been hovering right above 5.0% for quite some time, but we finally dipped below that milestone mark and now sit at 4.9%.
It's also worth noting that the unemployment rate for management, business, and financial operations occupations (the group in which accounting and finance professionals of all sorts are included) is a slim 2.3%, down from 3.0% a year ago.
You can read the full BLS report here.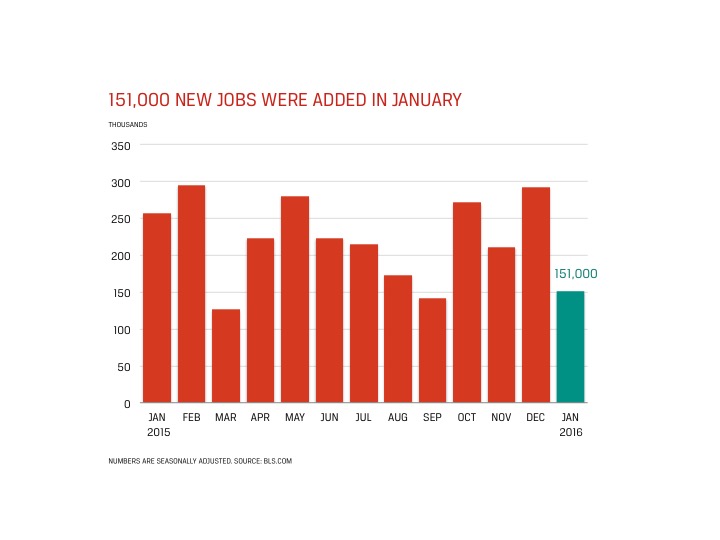 National Wage Figures
Earnings for professional and business services are, unsurprisingly, up from last year. Hourly pay was $29.77 in January 2015, compared to $30.50 in January 2016. Monthly, it grew from $30.28 in December 2015 to $30.50 in January 2016.
Here are the average 2016 salaries for a few of the most highly sought accounting and finance positions:
Accounting Clerk, $33,040
Staff Accountant, $55,505
Tax Accountant, $49,896
See the top 10 positions and their salary ranges here.

Tweet This: January added 151K jobs to the economy, and the unemployment rate remains low. More on the @acctprincipals blog: http://bit.ly/1S5mnB5
The Strongest Sectors
Accounting and finance professionals should be extra comfortable working in one of the following industries, as they currently lead the way in growth:
Construction
Manufacturing
Private service-providing
Retail trade
Financial activities
Leisure and hospitality
The Positive and Negative
The U.S. unemployment rate dropped below 5.0% for the first time in eight years. This continues the downward trend in unemployment that we've experienced in the last few years of our recovery from the 2008 financial crisis—obviously a positive sign. On the other hand, some economic and financial analysts are a bit concerned over the declining job growth, as that could be a precursor to a mild recession. At this point, it's far too early to tell what 2016 has in store.
For more industry insights, request a free copy of our 2016 Accounting and Finance Salary Guide.