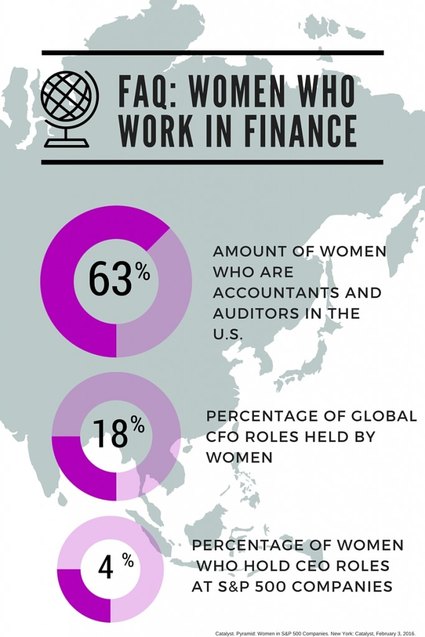 March is Women's History Month and March 8th is International Women's Day, a global day celebrating the social, economic, cultural, and political achievements of women. International Women's Day began in the early 1900's to push for the right to work, vote, hold public office and end discrimination. Issues of equality are still on the agenda, but the day also marks a celebration of the achievements of women in boardrooms and government offices around the world, including these famous women in finance.
Christine Lagarde, Managing Director, International Monetary Fund
Lagarde was born in Paris, France and attended the Holton-Arms School in Bethesda, Maryland. While there, she worked as a congressional assistant at the US Capitol. Returning to France a year later, Lagarde graduated from law school at University Paris X and earned a Master's degree from the Political Science Institute at Aix-en-Provence.
In 1981, Lagarde joined Baker & McKenzie, a Chicago-based international law firm, where she specialized in antitrust and labor cases. She quickly made partner and was named head of the firm in Western Europe. In 1995, Lagarde was elected the company's first ever female Chairman.
From 2005 through 2007 Lagarde worked for the French government, serving first as Minister of Foreign Trade, then Minister of Agriculture and Fisheries. In June of 2007, she became the first woman to hold the position of Finance and Economy Minister of a G7 country.
In July of 2011, Lagarde became Managing Director of the IMF, the first woman to hold the position. A mother of two sons, Lagarde was selected to serve a second five-year term starting in July of 2016.
Dr. Ngozi Okonjo-Iweala, Former Finance Minister of Nigeria
Okonjo-Iweala graduated magna cum laude from Harvard University and earned a Ph.D. in regional economic development from MIT. Prior to being named as the first female Finance Minister in Nigeria, Okonjo-Iweala spent 21 years as a development economist at the World Bank, eventually becoming a vice president.
As Finance Minister, Okonjo-Iweala successfully lead the team that struck a deal for an $18 billion debt write-off, increased government transparency, and restored economic stability. After her second stint as Minister of Finance ended in May of 2015, the mother of four joined Lazard as Senior Advisor.
Sallie Krawcheck, CEO and Co-Founder of Ellevest, Owner and Chair of Ellevate Network
Krawcheck grew up in Charleston, South Carolina and received a degree in journalism from the University of North Carolina at Chapel Hill and an MBA from Columbia University.
She started her career as an equity analyst covering Wall Street and rose to become Director of Research and then chairman and CEO of the research firm Sanford Bernstein. During that time, Fortune Magazine called her "The Last Honest Analyst." In 2002, she was named CEO of Citigroup's Smith Barney unit, where she was in charge of 13,000 brokers and analysts. She later served as CFO for Citigroup and CEO of Citi's wealth management business before Bank of America hired her to head a new division following their 2009 acquisition of Merrill Lynch.
In 2011, the mother of two acquired what would become Ellevate Network and founded Ellevest, a digital investment platform built specifically for women.
Chanda Kochhar, Managing Director and CEO of ICICI Bank
Kochhar earned her Bachelor of Arts degree from Jai Hind College in 1982 and a Master's degree in Management Studies from Jamnalal Bajaj Institute of Management Studies, Mumbai.
Kochhar started her career as a management trainee at the Industrial Credit and Investment Corporation of India (ICICI). In 1993, she was sent to ICICI Bank, where she steadily rose through the ranks. Under her leadership, ICICI Bank became the largest retail financier in India. In April 2001, she took over as Executive Director and successfully led the bank through turmoil in the global and domestic financial markets.
In 2009, Kochhar was appointment Managing Director of ICICI Bank, where she oversees nearly $125 billion in assets. A mother of two children, Kochhar has won several awards, including the Padma Bhushan Award in 2011, the third highest civilian honor awarded by the Government of India, for her services to the banking sector.
These amazing women are just an example of all the incredible work women in finance produce every day. To learn more about careers in finance, either to grow your business or your own career, contact us today.