AMERICA'S EMPLOYMENT SITUATION IMPROVED IN NOVEMBER
After the release of the BLS' "The Employment Situation – October 2013" report, most economists were unsure of what to expect as they prepared to publish their employment forecasts around November's job creation. October added 204,000 new jobs to the economy — a much better number than expected. However, there was a slight uptick in the unemployment rate and it was still unsure how the government shutdown would reflect in jobless numbers. It was expected that 108,000 would be added in November, but that number was actually not high enough.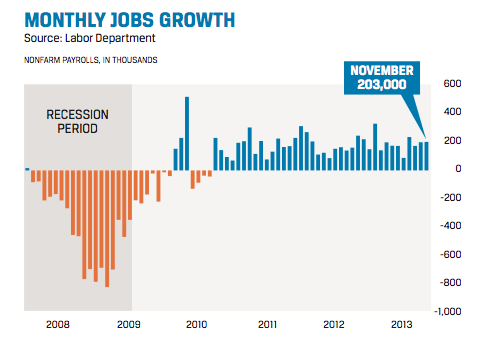 According to the BLS' "The Employment Situation – November 2013" report, 203,000 new jobs were created last month, the second consecutive month in which more than 200,000 jobs were generated. Total employment also increased, and unemployment declined leading to a reduction in the nation's jobless rate. Measured at seven percent, November's unemployment rate was the lowest in five years.
AS A NEW YEAR APPROACHES, PRIVATE SECTOR HIRING REMAINS ROBUST
Since the recession, the nation's private sector has reported employment gains for 45 consecutive months. As has often occurred throughout 2013, a majority of the private sector's industries recorded employment gains last month, including the following.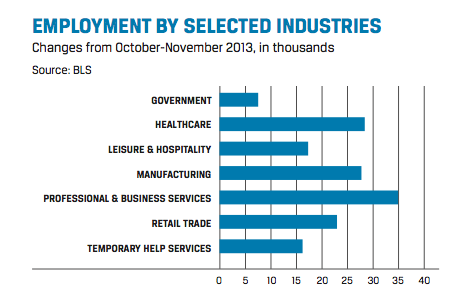 • PROFESSIONAL & BUSINESS SERVICES
Undoubtedly the nation's most consistent job creator, alongside healthcare and retail trade, the professional and business services sector continued to add new jobs to the economy in November. Approximately half of the sector's 35,000 new employees were administrative and support services workers.
• TEMPORARY HELP SERVICES
The sector continued to see a gain with the addition of 16,400 jobs in November.