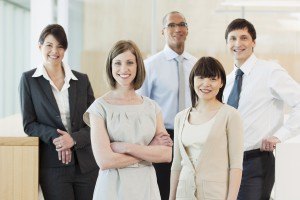 Regardless of a company's size, industry or stage in the business life cycle, leaders must assess their workforce, identify leadership candidates and form a detailed succession plan. This means hiring the right employees and managing them in a way that promotes advancement and growth. Let's discuss succession planning a bit more, how to conduce employee growth and explore two case studies.
The Importance of Succession Planning
At a high, fairly simple level, succession planning at businesses is exactly what it seems. Current company leaders, from owners to C-level executives, eventually leave or retire, and there must be a plan that appoints new leaders and creates a smooth transition. Some of the main objectives of all succession plans are to:
Find future leaders (based on fitting company culture and vision, specialty skills, soft skills, management abilities, etc.) within and outside of your walls.
Provide these future leaders everything they need to grow their career and become key strategic contributors at your company.
Use salary, benefits and other motivators to retain them (request our 2015 Salary Guide).
Let them know that they're in the company's future plans, and what you expect from them.
After leadership exits, transition in the replacements, and continue with business operations that align with company goals.
By accomplishing these objectives, you're also well on your way to accomplishing the ultimate goal of a succession plan—ensuring your company's future is in good hands and has a positive outlook.
For more insight, and to test your knowledge of the topic, take our succession planning quiz.
Conducing Employee Growth
Even if you've already identified certain employees as potential future leaders, they still need to grow their skills and climb your company's ladder, in order to be the leaders you envision. First and foremost, from the top down, your company's culture should be one that fosters growth, and that's more complex than just promoting employees. Perhaps you could have a mentoring program where low-level and mid-level employees spend time with leadership. Or maybe you could set a separate budget for your team to attend—and sharpen their business acumen at—conferences, seminars and trainings. Even something such as an off-site team-building event allows employees to display leadership qualities, showcase their soft skills, and, not to mention, helps you further assess their potential.
Succession Planning: Case Studies
Jennifer and Kathleen are perfect examples of employees that could be included in succession plans. And what makes them unique is the fact that both entered their respective companies as temporary and part-time workers—who are often easily overlooked. This brings up a key point that company leaders should keep top of mind: consider all employees during your succession planning. "All" translates to employees that are less experienced, not in management, part-time or even temp—essentially, anyone that is not an obvious leadership candidate. Why? You never know where true talent lies until you objectively evaluate all options. See how Jennifer and Kathleen quickly advanced far beyond temporary placement.
Jennifer
Jennifer was placed in a two-week data entry job at a respected client of Accounting Principals in late November 2013. Since then, the client was so impressed with her performance, that she was renewed on a week-to-week basis, before being hired as a full-time biller in May. But it doesn't stop there; Jennifer was then promoted twice in 2014, first to lead biller, then to Senior Accountant. Her employer sees her as bright, quick to adapt and eager to take on new responsibilities.
Kathleen
Without much experience, Accounting Principals placed Kathleen in an entry-level part-time position in May of 2011. By July, she had been promoted to a full-time specialist position. She was then promoted to supervisor, and is now hiring a team of her own. Her employer views her as highly intelligent, adaptable, flexible and likely to be a long-term department—and maybe company—leader.
Here are excerpts from recent interviews of Jennifer and Kathleen that provide insights on the dynamic of a temp worker becoming a promising leadership candidate.
Jennifer on Her Career Path and Growth
Question: How, once you were hired, was your career path outlined for you? Did you have a clear sense of opportunity for growth?
Answer: "There wasn't a specific career path outlined for me, but my career path was crafted over time through communication with my manager. It is very important to have open communication with your manager, and I have always told my manager that I want to continue to grow and learn more. However, because of my limited experience, I wasn't clear on which accounting path I wanted to take. With a small to medium size company, I was able to take on different roles in the accounting department, so that I have a better sense of what I like and where I want to be."
Question: Do you feel your compensation has grown with your level of advancement in your company?
Answer: "My compensation has grown a lot throughout the years, and every time I was promoted at my company. When promoted, they provided me with increases that were comparable to current market rate. The number of vacation days has also increased over the years working at my company."
Kathleen on Her Career Path and Growth
Question: How, once you were hired, was your career path outlined for you? Did you have a clear sense of opportunity for growth?
Answer: "The company was transitioning at the time, and while there was not a definite career path, we did have more opportunities for learning and responsibilities."
Question: Did your team leader/manager have a short or long-term plan for you or your team, and was it communicated?
Answer: "There were definite areas of improvement and growth for the department as a whole, as well as on an individual level, and our manager worked with us to address both aspects. Performance reviews were utilized on an individual level, and team meetings were helpful for us as a department."
Jennifer on Communication with Her Manager
Question: What kind of constructive feedback did you receive from your hiring manager?
Answer: "I have received both positive feedback from my manger and feedback on areas where I need to improve. His feedback was important to me because I always like to grow and increase my skill set. Communication skills are something I have worked on with my manager in the past. He had put me in situation where I could practice and utilize my communication skills. He allowed me to take charge in meetings and give presentations, so that I can become a better communicator. He often asked me to rate my own presentations and what I think I need to improve on and then provide his feedback to me afterwards."
Kathleen on Communication with Her Manager
Question: What kind of constructive feedback did you receive from your hiring manager?
Answer: "As a new employee, it was very helpful to know what I was doing well and what areas could be improved. My hiring manager was upfront about both, and the continual check-ins we had helped greatly in working through the position's growing responsibilities."
Jennifer on Communication with Her Recruiter
Question: How did your recruiter connect with you, and how were your interactions before you were placed at your company?
Answer: "I applied through Accounting Principals' website and within a week, I was contacted via phone to go to their office for an interview with their recruiter. We discussed about what kind of opportunities I was looking for, including the types of job responsibilities, companies and industries. We also talked about my education, skills and past job experiences. After the interview, the recruiter contacted me once a week to provide me with an update with possible job opportunities."
As you can see, Jennifer and Kathleen consider communication with their manager a major component of their success. They are also ambitious and have the desire to jump at opportunities, from promotions to simply learning new skills, reiterating the point that all employees should at least be given a chance to display their skills and value. You may find your next leader where you least expect.
Looking for your next temp or full-time accounting or finance hire?
Need to fill a critical role with someone that has the ambitions and skills to work their way to being a leader—and part of your succession plan? Contact Accounting Principals today >> !