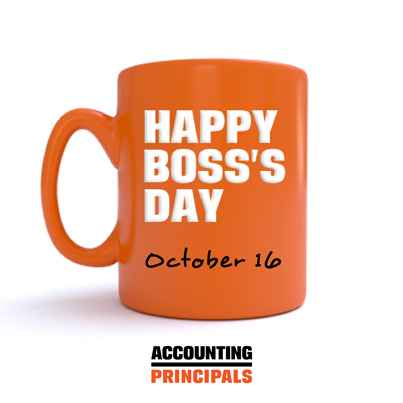 This Boss' Day is a time for reflection and workplace reevaluation. For the first time since 2008, we are firmly situated in a 'candidate driven market.' The majority of the degreed and skilled labor market is employed. This could be a permanent job, or a temporary job, but most are gainfully employed unless there are extenuating circumstances. The demand for accounting and finance professionals is soaring – leaving that particular talent pool constantly eyeing any "bigger and better" opportunities.
Many professionals are seeing new and exciting career opportunities advertised, and have decided that this is the time to evaluate their career goals, accomplishments and compensation. Since the majority of these degreed and skilled professionals are employed, when new opportunities arise, most people placed in a new position are doing so after leaving another job.
In other words, career satisfaction is essential in order to attain and retain top talent. And the #1 predictor in job satisfaction rating is RESPECT. This points heavily to relationships with leadership and whether or not candidates feel adequately respected from their bosses and higher-ups.
Employees want access to all layers of Leadership and to the C-Suite. They want to feel connected to their leader and they want their leaders to take a collaborative approach with them.
GREAT BOSS TIP: Access to the C-Suite can be offered through Social Media.  Simply engaging in 1 or 2 responses back and forth can lead to employee satisfaction and a feeling of mutual respect.
The #1 reason employees want to quit is dissatisfaction with duties and a lack of challenge. The next upward move does not always need to be visible; however, the employee does need to perceive growth in areas that broaden their skill set. If they are dissatisfied, they can readily get another job in this job market if they are within the skilled and degreed labor force.
Normally, compensation is one of the top reasons that good employees quit (for more information on the right numbers, check out our Salary Guide).  But if they like what they are doing, they like their boss and they like the organization overall, they will more than likely remain in their job despite compensation.
This means taking the time to listen to the employee's opinions and ideas and offering feedback.  When relationships are built within multiple layers in the organization, trust is formed.  This trust leads to critical and measurable success in areas such as employee retention. For more workplace insights on retaining top talent, visit accountingprincipals.com.
Kim Gottschalk, Regional Vice President, Accounting Principals