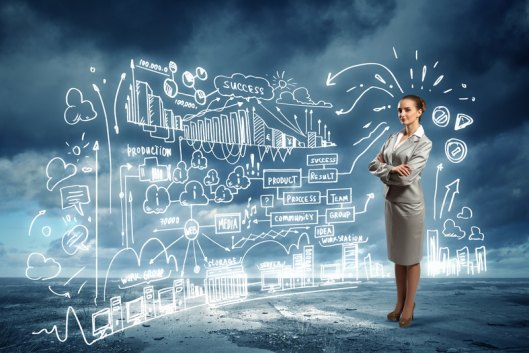 If you imagine cultural fit as a tool in the toolbox of hiring, it would be a jackhammer. It is incredibly powerful, imprecise, and potentially perilous in untrained hands.
Attention: Cultural Fit At Work
It can be tempting to view the hiring process as a simple project. It turns out that the combination of qualifications, years of experience, and salary expectations aren't always enough to ensure success. More and more organizations are finding that the most qualified candidate is not always the best.
The truth is personality matters. Company culture is defined by an organization's size, schedule, values, dress code, benefits and chemistry. Just like the individuals that drive them, each organization is unique. Aligning the personality of candidates and companies has benefits for both.
Finding cultural fit is about more than ruling out candidates during the hiring process; it is about predicting the future of the relationship between employer and employee.  Studies have shown that employees who are culturally fitted to their organization experience greater job satisfaction, are more likely to stay with the organization, show superior job performance and have better mental health. It doesn't just predict how valuable an employee will be to an organization but how happy the employee will be with the company. Cultural fit should be an important consideration for both company and candidate.
Caution: Cultural Fit Ahead
Earlier this month, Accounting Principals posted a blog post about the Benefits of Hiring for Cultural Fit. The post sparked heated discussion and brought many issues to the forefront. Like any tool, cultural fit needs to be used effectively to work. There are steps you can take to overcome the potential perils that accompany cultural fit.
Issue #1: Unclear Definition.
Solution: Over Define.  
Cultural fit is not a universal term. In the HR realm it is a measurement of how the norms and values of an individual and the norms and values of an organization align. The norms and values of the organization need to be clearly defined in order for the tool to work effectively. More than that, companies can avoid confusion by translating their culture into actionable items and traits.
Steps:
Evaluate (or reevaluate) your company culture
Convene leadership to discuss company culture past, present and future
Make a company "personality profile"
Be Honest
Explore positive, neutral and negative aspects of company culture
Accept that the organization isn't perfect and identify areas for improvement
Incorporate the company's areas of improvement and/or future aspirations into decisions about the cultural fit of new hires.
Get as many perspectives as possible
Conduct a company-wide survey to ensure the profile is truly reflective of the organization.
Publish Profile
Simplify the profile and communicate it clearly across all levels of the organization
Put the personality profile in job postings

Hiring for a cultural fit is vital to team building, but hiring discrimination is illegal. http://acctprin.us/1mqPKN4 @acctprincipals
Issue # 2: Cultural Fit can lead to hiring discrimination.
Solution: Handle Cultural Fit Like an HR Pro
When we see the word discrimination, overt cases of sexism, racism, ageism or homophobia come to mind. Unfortunately, the incorrect use of cultural fit can mask these cases, but that is not unique to cultural fit. The hiring process itself is about screening based on a number of factors and many of these factors can mask overt hiring discrimination.
Much more pervasive is subtle discrimination that results from our unconscious decision making process. The brain has evolved to take short cuts that save time and space. This process is indispensable; it allows us to make fast decisions while driving, plan appropriately for the weather and navigate through a crowd without spilling our morning coffee. However, when making hiring decisions, our natural gravitation toward superficial categorization disrupts our ability to make well-rounded choices.
Human resource professionals spend hours training, learning and developing tools to make hiring decisions based on research and best practice. The best thing you can do to avoid the link between cultural fit and hiring discrimination is to use the tool like a human resource professional.
Steps:
1.  Translate your personality profile into standard questions/assessment tools.
2.  Encourage thorough documentation
Have decision makers record how a person demonstrated deficiencies accompanied with the reasons a candidate was not selected
Test assessment tools for adverse impact on specific groups of people
Define what percentage of the hiring decision each factor will account for
Issue #3: Cultural Fit Encourages Stagnation
Solution: Diversify and Innovate
Stagnation can be the death of a company. Failure to innovate often translates to missed opportunities for growth and development. Diversity is the key to innovation and it is not limited to color, gender or age. Diversity has become more nuanced.
A company must encourage a variety of competencies, personality-types and cognitive approaches to leverage their diverse workplace. Companies with diverse workplaces capture greater market share, have lower turnover rates, and remain globally competitive. If appreciation for diversity is a component of your organizational culture then innovation is inevitable.
Steps:
Rethink Diversity
Don't fall victim to the Equal Opportunity mindset
Diversity is about more than skin color, gender and age
Consider personality type, cognitive approach and educational background
Identify Stagnant Areas
Identify areas where your company can diversify

Identify areas where your company can diversify
Identify the reasons those areas are stagnant
If there is a talent shortage, consider outsourcing

Develop a plan to address the areas of opportunity
Prioritize Diversity

Make it a goal or incorporate it into your personality profile
View it as an investment in innovation
Cultural fit has the potential to help employers and employees make more informed decisions than ever before. No matter what its faults, it seems cultural fit is here to stay. It is one of the most powerful assessment tools organizations have for shaping the future of their workplace. It is also an important tool for candidates to assess whether a company is right for them. When handling the jackhammer of hiring keep in mind three things – over define, wield it like an HR pro, and prioritize diversity to achieve innovation.
Does your company need assistance in staffing the right cultural fit for your team? We can help!
Contact us and we'll connect you with a local Accounting Principals office!