With the advancement of artificial intelligence (AI) and automation in recent years, many aspiring number crunchers have begun to ask a logical question: "How is the job market for accountants?"
The quick answer: The accounting job market is good! However, technology is changing the profession, impacting the work accountants perform and the skills they're expected to need in the future.
What is the accounting job market like?
Demand for accountants remains high according to October's jobs report numbers from the U.S. Bureau of Labor Statistics (BLS). Employers added 16,200 jobs in accounting and bookkeeping in October of 2019. Growth in the profession is not expected to slow down any time soon. The BLS projects employment of accountants and auditors to grow by 6% from 2018 to 2028. The average growth rate for all occupations is five percent.
That's not to say that every accountant has excellent job prospects. Thanks to a shift in accounting technology, most of the traditional work an accountant performs is becoming more automated. As a result, the role of an accountant is changing from one heavy in data entry and number crunching, to that of an advisor. The shift requires new skills that fall into two broad categories:
Business intelligence and data analytics skills to help accountants collaborate with artificial intelligence, machine learning, and automation
"Soft" skills, such as emotional intelligence and communication skills, that equip them to provide consulting and advisory services to stakeholders
Accounting Job Market Rumors
Technology advances have historically eliminated some jobs while creating others. Rumors have been heard that with the rise of AI, accounting positions will be at extreme risk. Gartner has predicted that AI will eliminate 1.8 million jobs, but actually create 2.3 million. The jobs most at risk for being taken over by AI are ones that involve highly routine work and require a lot of manual data entry.
In its report, Bots, Algorithms, and the Future of the Finance Function, McKinsey & Company forecasted the accounting tasks that are likely to be automated in the future. Those that are highly or fully automatable include: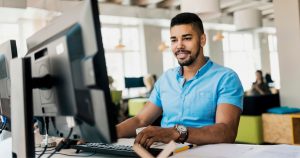 General accounting operations
Cash disbursement
Revenue management
Financial controlling and external reporting
Tax
Financial planning and analysis
Those predictions are in agreement with the BLS's outlook for bookkeeping and accounting clerks, which forecasts a 4% decline in these roles over the next decade.
Meanwhile, accounting jobs that involve external relations and business development are more difficult to automate. That's why, although roles that revolve around data entry and executing simple tasks are being automated, we believe accountants are just as important as ever before.
What jobs can you get with an accounting degree?
As described in Accounting Principals' Accounting and Finance Career Guide, the key to a bright career in accounting is to couple a degree in accounting with skills like strategic thinking, data analysis, communication, and people management. With a basic understanding of accounting principles and the power of automation, accountants will have more time to focus on providing strategic advice and turning raw data into actionable insight for their clients or employers.
Here are a few entry-level accounting jobs with a lot of potential.
External auditor
Entry-level auditors who are working toward their CPA designation and possess project management and presentation skills are in demand. In the past, new graduates entering a public accounting firm could expect to spend the first several years on the job performing routine transaction testing and preparing audit reports. With technology automating much of that work, auditors are expected to take on a client-facing role much sooner, by communicating findings and recommendations to senior management.
Tax accountant
Part of a Tax accountant's job description involves helping individuals and businesses plan for and file local, state, and federal taxes. Like other entry-level accounting roles, much of the routine data entry work historically required for tax preparation is being automated. But thanks to the complexity of the U.S. Tax Code, sales tax laws impacting online retailers, and the growth of the global economy, tax expertise is still in demand. Again, the focus has shifted from preparing tax returns to helping organizations navigate complicated tax legislation and minimize tax burdens.
Corporate or management accounting
Entry-level accountants in business and industry may be involved in everything from helping negotiate a real estate transaction to interacting with bankers. They also participate in value-added activities such as improving business processes, enhancing profitability, and assisting in mergers and acquisitions. The most sought-after candidates will enhance their technical skills with data analytics, communications, skills, and the ability to handle multiple projects under deadline.
Technology is a valuable tool for accountants, but it can't handle crucial client interactions or have the final say on business-critical decisions. Organizations still need accountants for that, and the ones who understand and are capable of leveraging technology to do their jobs will rise to the top.