April brought 223,000 new jobs to the economy while the unemployment rate remains at 5.4 percent, according to the U.S. Bureau of Labor Statistics.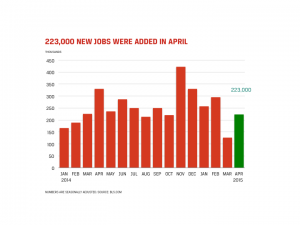 Jobs market trends incrementally upward
Professional and business services increased with 62,000 jobs in April. Over the previous 3 months, job gains averaged 35,000 each month. After very little change in March,  services to buildings and dwellings added 16,000 jobs in April. Employment continued to trend up in April in computer systems design with a gain of 9,000, and an increase of 7,000 and 6,000  in business support services and in management and technical consulting services respectively.
The average workweek for employees on private, non-farm payrolls stayed steady in April at 34.5 hours.The average workweek for non-supervisory and production employees was stable at 33.7 hours, and for employees in manufacturing the workweek edged decreased to 40.8 hours. Factory overtime also decreased to 3.2 hours.
The average hourly earnings, however, increased marginally by 3 cents to $24.87; over the past year, average hourly earnings rose by 2.2%. Average hourly earnings of private-sector production and nonsupervisory employees also rose slightly, by 2 cents.
Predicted growth in accounting jobs
According to BLS projections, 166,700 new jobs will open up in accounting and auditing by 2022. This is approximately a job growth of 13.1 percent, which is a similar to the average pace for all professions.
Over the last 3 months, job gains have averaged about 191,000 each month.The BLS did make some revisions, however. The change in non-farm payroll employment in March was revised from an increase of 126,000 to 85,000, and from an increase of 264,000 to  266,000 in February. Taking into account these revisions, combined employment in March and February were actually 39,000 less than reported previously.
For more insight on the salary predictions for 2015, request your free copy of the 2015 Accounting Principals Salary Guide. 
Accounting Principals keeps employers up-to-date on monthly employment and hiring trends, specific to the accounting and finance industry. To learn more about today's changing economic landscape, and to discuss your 2015 hiring strategy, contact an Accounting Principals representative today.
Sign up to receive future Jobs Reports
You'll get instant updates and analysis on the latest workforce and hiring trends impacting the accounting and finance industry.
[subscribe2]