An employment summary based on the U.S. Bureau of Labor Statistics' (BLS) January 2016 monthly jobs report.
December was a good month for job seekers. According to the BLS jobs report, the U.S. economy added 292,000 jobs, and that figure beat economists' expectation of 200,000. The unemployment rate held steady at 5 percent, according to the BLS's January 8 report. However, the labor participation rate essentially remain unchanged at 62.6 percent, which means about 94 million Americans are not in the labor force, a 38-year low.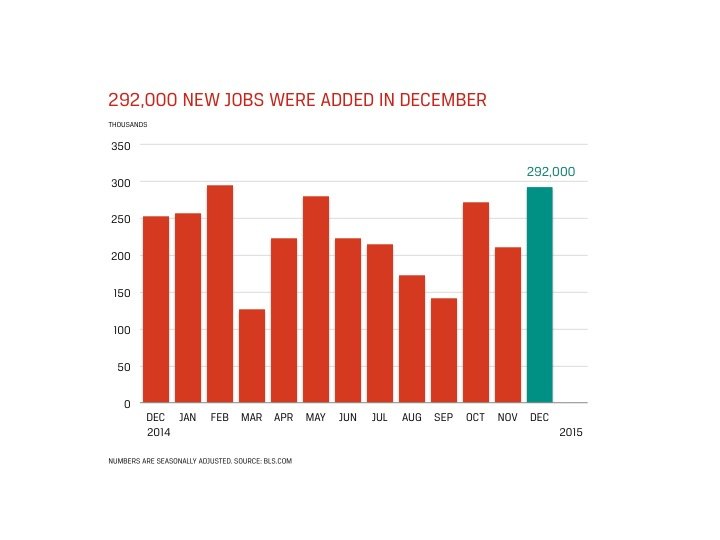 On Friday, the BLS revised upward October's and November's employment gains — 50,000 higher than previously reported. Some economists believe the warmer weather contributed to stronger job growth, particularly in the construction sector which added 45,000 jobs in December. Since October, job gains in the U.S. have averaged 284,000 per month. Average hourly wages remained unchanged at $25.34 an hour.
Employment in accounting/finance
Despite the strong job growth for the overall economy, December was a slow month for accounting job candidates. According to BLS, accounting and bookkeeping services saw a reduction of 4,900 jobs, an unusual stat for the profession. However, financial activities showed gains of 11,000 jobs for December. In November, accounting added 11,100 jobs while financial activities gained 14,000 jobs.
Over the long-term, candidates who are seeking employment in accounting, bookkeeping, and finance have relatively more career opportunities than other professionals. Accounting and finance degree holders continue to see strong hiring demand from recruiters. Those who possess experience and credentials (such as a CPA or CFA) are likely to receive multiple job offers–if they decide to test the job market. Many employers are also willing to offer a promotion and a salary increase to the right candidate.
Job vacancies
There are several drivers to the growth in accounting/finance jobs. Employers are looking to improve their governance and compliance frameworks, streamline their business processes, implement better analytics, and increase returns on their capital. Secondly, employers must hire and retain younger accountants and finance professionals to replace retiring Baby Boomers. It's estimated that 10,000 Baby Boomers retire every day.
Workers in this field can expect strong hiring over the long-term. According to BLS, accountants should see a 13 percent growth in their profession from 2012 to 2022. And financial analysts will see 16 percent growth over the same period. The average growth rate for all occupations is 11 percent.
Jobless benefits
In December, jobless claims increased to its highest level since July 2015, increasing by 20,000 to 287,000 in the week ended Dec. 26, according to the Labor Department. Economists had forecasted 270,000. The number of Americans who filed for unemployment insurance had decreased by 10,000 — to 277,000 — in the week ended Jan. 2.
The official unemployment rate is pegged around 5 percent, more than a seven year low. But there are about 2.2 million people who are receiving jobless benefits. Overall, the Federal Reserve considers the economy to be improving. On Dec. 16, the Fed increased the target range for the federal funds rate from 0.25 percent to 0.5 percent, up from zero to 0.25 percent. It's the first such increase in nearly a decade.
For other workplace insights, visit accountingprincipals.com.