January brought 257,000 new jobs to the economy and the unemployment rate held steady, according to the U.S. Bureau of Labor Statistics.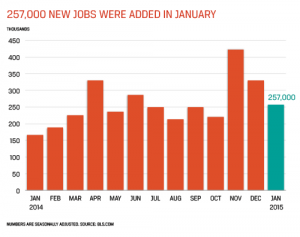 The unemployment rate held steady at 5.7 percent, and hasn't seen a net change since its decrease in October.
In January, the number of unemployed was relatively steady at 9.0 million.  The number of long-term individuals unemployed – those jobless for 27 weeks or more – also remains unchanged at 2.8 million people, and accounted for 31.5 percent of the unemployed. Over the past year, the number of individuals who are considered long-term unemployed decreased by 828,000.
The labor force participation rate rose by 0.2 percentage point to 62.9 percent, and as measured by the household survey, total employment increased in January by 435,000 and the employment-population ratio remained steady at 59.3 percent.
26,000 jobs gained in January from financial activities.
Retail trade and manufacturing were also among the areas that saw increases. Financial activities added 159,000 jobs over the past year and employment in that area continues to trend upward. Areas that contributed to the increase include commodity contracts and securities (increase of 14,000) and investments (increase of 5,000).
Employment in professional and business services continued to edge up in January with an increase of 39,000. Monthly increases in the industry averaged 59,000 in 2014. Over the last month, professional and technical services accounted for the major part of the growth with 33,000 jobs. Architectural and engineering services and computer systems design and related services added 8,000 jobs in January, while management and technical consulting employment continued to increase (+4,000).
Average hourly earnings for employees on non-farm payrolls increased to 24.75 in January, which was an increase of 12 cents (this followed December's decrease of 5 cents). Over the past 12 months, the average hourly earnings increased by 2.2 percent, and private-sector and non-supervisory employee wages increased hourly by 7 cents for a total of $20.80.
The average workweek for employees on private nonfarm payrolls was unchanged at 34.6 hours in January, and the average workweek for non-supervisory and production employees on private nonfarm payrolls decreased by 0.1 hours to 33.8 hours. The manufacturing workweek is now 41.0 hours, an increase of 0.1 hour. Factory overtime trended down to 3.5 hours, a decrease of 0.1 hours.
For more insight on the salary predictions for 2015, request your free copy of the 2015 Accounting Principals Salary Guide. 
Accounting Principals keeps employers up-to-date on monthly employment and hiring trends, specific to the accounting and finance industry. To learn more about today's changing economic landscape, and to discuss your 2015 hiring strategy, contact an Accounting Principals representative today.
Sign up to receive future Jobs Reports
You'll get instant updates and analysis on the latest workforce and hiring trends impacting the accounting and finance industry.
[subscribe2]