An employment summary based on the U.S. Bureau of Labor Statistics' (BLS) October 2015 monthly jobs report.
On October 2nd, BLS announced that the U.S. economy created a weaker-than-expected 142,000 new jobs for the month of September. The government also revised last month's jobs data to show that the economy created only 136,000 jobs, down from 173,000.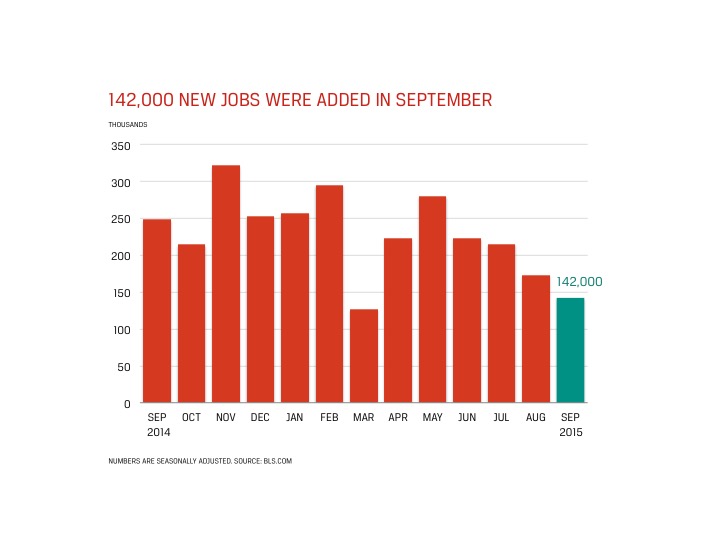 Last month, the more optimistic (and outdated) 173,000 number had already fallen short of Wall Street's expectations by 47,000 jobs. Accounting and bookkeeping added 5,400 jobs nationwide between August and September 2015. However, finance and insurance activities lost a cumulative 1,300 jobs over the same period, mostly driven by cutbacks in commercial banking.
For September, the bulk of the increase occurred in healthcare (+34,000) as well as professional and business services (+31,000).
What this means for accounting/finance job candidates
Despite the weak jobs report, it continues to be a seller's market for experienced and talented job seekers. Today's accounting/finance workers are expected to replace the estimated 10,000 Baby Boomers who retire each day in the U.S. In accounting/finance, there's growing demand and a shortage of supply.
Experienced and skilled accounting/finance workers have more career opportunities than other professions. Both specialties are considered among the 20 fastest growing occupations. And also, accountants and auditors can expect a 13 percent growth in their occupation from 2012 to 2022, while financial analysts will see 16 percent growth over the same period, according to BLS's Occupational Outlook Handbook.
The average growth rate for all occupations is 11 percent.
What this means for accounting/finance employers
Employers need to know where the salary winds are blowing. Take a look at our 2016 Accounting and Finance Salary Guide which helps you make competitive offers to attract top talent.
As you bring in Millennials and Generation Z into your workforce, retention will play a key role in a winning game plan. Studies find that today's younger employees tend to go job-hopping. Thus, turnover of skilled personnel should be avoided in an environment where there's a shortage of accounting/finance talent in the first place.
In terms of macroeconomic outlook, September's strong employment numbers is rekindling debate on whether the Federal Reserve will raise interest rates at the next board meeting. A rate hike would be the first in nearly a decade, and would be aimed at preventing inflation. However, record low prices at the fuel pump have thus far been a key influence in keeping inflation at bay.
Accounting/Finance employment figures
While the official unemployment rate has dipped to historic lows at 5.1 percent, be cautious. A record 94 million Americans are not participating in the workforce, and the labor participation rate is at 62.4 percent, a 38-year low.
When looking specifically at accounting/finance, things are optimistic. The unemployment rate for accounting and finance professionals is generally considered 2 to 3 percent lower than the overall U.S. population. And according to the "Job Outlook 2015" survey by the National Association of Colleges and Employers, the top two in-demand bachelor's degrees are finance and accounting: 57 percent of respondents said they plan to hire candidates with a bachelor's in finance, while 56 percent said they plan to hire accounting degree holders.
For accounting/finance professionals, that's cause for optimism indeed.