A REPORT ON THE U.S. BUREAU OF LABOR STATISTICS (BLS) EMPLOYMENT SITUATION SUMMARY BASED ON JUNE 2015 DATA.
June was a relatively good month for job seekers, although there are signs that the economy still has much room for improvement. According to the latest data from the U.S. Bureau of Labor Statistics (BLS), June added 223,000 jobs across all sectors. But that figure is less than the average monthly gain of 250,000 over the prior 12 months. In comparison, May added 280,000 jobs to the economy.
BLS recently revised both the April and May numbers, reducing job gains by 60,000 over that two-month period. The labor force participation rate declined by 0.3 percentage point to 62.6 percent in June.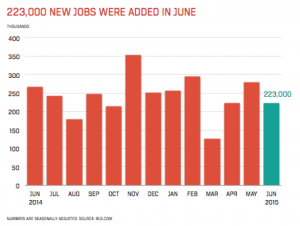 Still, job-seekers have plenty of options so long as they possess the skills that employers want. According to BLS, there were 5.4 million job openings on the last business day of May. Employers hired 5 million workers in May, while separations (retirements, resignations, layoffs, discharges, etc.) totaled 4.7 million for that month.
Employment Increase in Finance
Most of June's job gains are found in the following industries:
Professional and business services (+64,000)
Healthcare (+40,000)
Retail trade (+33,000)
Financial activities (+20,000)
Transportation and warehousing (+17,000)
Career opportunities have been robust for those providing professional and business services, as well as, healthcare services. But small parts of the economy are showing hints of fundamentally shifting from traditional full-time employment to what BLS refers to as "temporary help." In professional and business services, the gains from temporary help (for June) rose to 19,800 compared to an increase of 17,200 in May. In April 2015, those gains were significantly lower at 10,800. (BLS did not provide similar measures for temporary help when it came to financial activities.)
To illustrate the growing trend of telecommuting and flex-work, 23% of employed persons did some or all of their work at home during 2014, according to BLS. Back in 2003, 19% of employed persons did some or all of their work at home.
Insurance Industry Hiring More Professionals
In June, employment in financial activities increased by 20,000, with most of the increase coming from insurance carriers and related activities (+9,000) and in securities, commodity contracts, and investments (+7,000), according to BLS. Commercial banking employment declined by 6,000.
The accounting and finance professions continue to see job gains, and a persistent shortage of talent is causing many vacancies to go unfilled. Employment in financial activities has grown by 159,000 over the year, and according to BLS, the insurance industry is responsible for about half of the gain.
Here are recent trends in job gains for financial activities:
June 2015: +20,000
May 2015: +10,000
April 2015: +7,000
June 2014: +17,000
Career Outlook for Accounting and Finance Professionals
BLS estimates that there are 1.18 million accountants and auditors who are employed in the U.S. (as of May 2014) with a mean hourly wage of $35.42. But a key question remains whether companies will be able to hire enough talent to replace retiring Baby Boomers. Between 2012 to 2022, accounting and auditing are projected to create over 200,000 jobs in the U.S., representing a 13.1% growth in the profession.
In general, four employment trends are occurring:
Companies want to hire accounting/finance professionals.
There's a shortage of talent and experience.
Employers are enticing a limited pool of qualified candidates with higher pay, more benefits, and development programs.
Millennials and Generation Z are beginning to replace retiring Baby Boomers. However, these younger workers tend to go job-hopping.
[subscribe2]