Total number of U.S. jobs grew by 252,000 in December, and unemployment rate declined to 5.6 percent, according to the U.S. Bureau of Labor Statistics.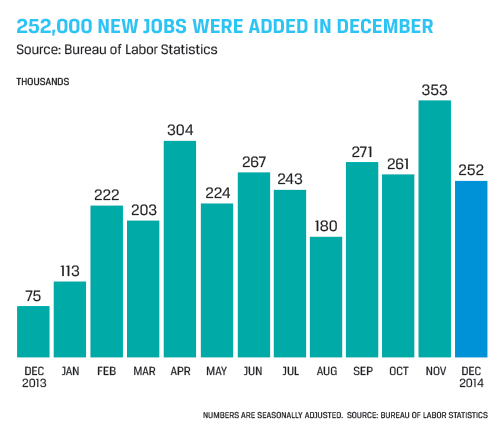 The 0.2 percentage point decline in the unemployment rate brings it to the lowest it's been all year.
December also saw a decline in the total number of unemployed persons, who now number 8.7 million (down 383,000 from November). Over the past 12 months, the un¬employment rate and the number of unemployed persons has declined by 1.1 percentage points and 1.7 million, respectively, indicating the job market is continuing to steadily improve.
The civilian labor force participation rate also edged down by 0.2 percentage point and was reported at 62.7 percent in December. The number of long-term unemployed (those jobless for 27 weeks or longer) was essentially unchanged last month (2.8 million) and accounts for 31.9 percent of the unemployed. The number of long-term unemployed has declined by 1.1 million, year over year, the BLS reports.
The number of involuntary part-time workers (those working part time because their hours had been cut back or because they were unable to find a full-time job) was little changed in December at 6.8 million.
The change in total nonfarm payroll employment for October was revised from +243,000 to +261,000, and the change for November was revised from +321,000 to +353,000. With these revisions, employment gains in October and November were 50,000 higher than previously reported.
Growth in the professional and business services wasn't as robust as last month, but unemployment rate continues to decline.
The sector added 52,000 jobs in December, with monthly job gains in the industry averaging 61,000 in 2014. Unfortu¬nately, the additional 14,000 jobs added to the accounting and bookkeeping services in November was offset with a reduction of 14,000 in December. However, employment in the financial activities industry continues to trend up. The industry's unemployment rate was 3.4% in December, down from last year when it was reported at 4.2%.
Average workweeks for private nonfarm employees held steady at 34.6 hours. Hourly earnings, however, decreased by 5 cents and are now reported at $24.57 an hour. This ne¬gates the 6 cent increase seen in November. Over the year, average hourly earnings have risen by 1.7 percent
For more insight on the salary predictions for 2015, request your free copy of the 2015 Accounting Principals Salary Guide. 
Accounting Principals keeps employers up-to-date on monthly employment and hiring trends, specific to the accounting and finance industry. To learn more about today's changing economic landscape, and to discuss your 2015 hiring strategy, contact an Accounting Principals representative today.
Sign up to receive future Jobs Reports
You'll get instant updates and analysis on the latest workforce and hiring trends impacting the accounting and finance industry.
[subscribe2]