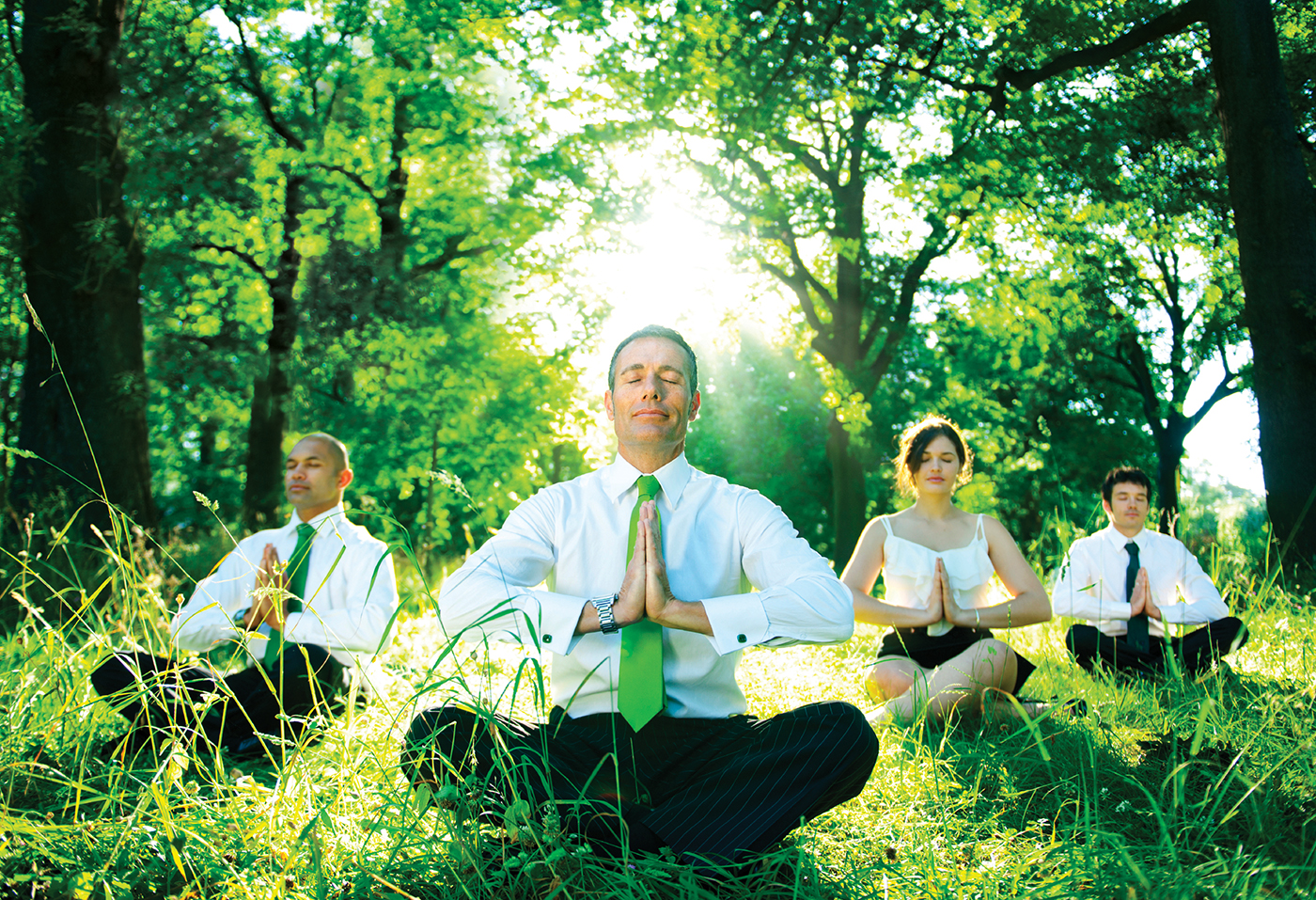 It's not hyperbole to suggest that most of us spend more time in the office than we do in bed. The Bureau of Labor Statistics found that in 2014 the average employed person age 25 to 54 spent an average of 8.9 hours working and 7.7 hours sleeping. We spend a large portion of our lives in the office, yet too many offices lack energy or inspiration, with dull beige walls, laminate desks, and zero personality.

Tweet This: 5 Ways to Keep Your Office Edgy via @acctprincipals: http://acctprin.us/1XQ2a3o #workspace #cooloffice
Rather than fearing what clients will think if we show off some verve, we should find ways to create office spaces that are edgy, yet professional. The change can not only make employees happier and more productive but can help generate new business and attract high-quality talent.
A glimpse of nature
Naturalist John Muir wrote, "Climb the mountains and hear their good tidings . . . the winds will blow their own freshness into you, and the storms their energy." We can't all spend our lunch hour hiking the Sierra Nevadas, but bringing a bit of nature indoors can boost productivity and provide psychological benefits.
Don't just stick a potted plant in the corner and call it a day. Turn a common area or meeting space into a park with astroturf and trees. Encourage natural light. Paint the filing cabinets green or incorporate natural wood finishes instead of cold plastic laminate. Plant a green roof to give employees a place to recharge.
Forget the inspirational posters
The artwork in an office usually falls into one of two camps: stodgy oil paintings or trite "inspirational" posters. Instead, bring some personality into the space with artwork that is unexpected. Mix urban graffiti art or vintage kitsch with classical furnishings.
Search online for digital images that spark your fancy and have appropriate Creative Commons licenses. Have them enlarged and printed and place in matted frames for a high-style look at an affordable price. Don't skimp on the size, since a few larger pieces can anchor the office.
Let there be light
Most offices are bathed in bland, unflattering overhead fluorescent lighting. Although generally imperceptible to the human eye, fluorescent lighting flickers, causing migraines and eye strain in people who are sensitive. Natural light, on the other hand, has mood-enhancing effects that encourage creativity.
Bring in natural light whenever possible but also mix it up with task lighting. Fluorescent lighting is good for bathing a large area in light but is terrible for reading. Just adding task lighting to an area already awash in fluorescent light can make a big difference, both aesthetically and functionally.
Think outside the box
A few years ago, companies around the world followed Google's lead and tore down office walls to create open office layouts. Seventy percent of all offices now have an open floor plan, but experts – and employees – are questioning their appeal.
Does that mean it's time to build the walls back up? Not exactly. Just as a workplace can be too open, it can be too divided. A hybrid office space combines all the benefits of both the traditional and the open office space, offering collaboration when needed and privacy when required.
Wireless internet, tablets and laptops mean employees are no longer tethered to their desks, so why not create a space that allows employees to work in a variety of places? Incorporating some communal space and informal conferencing areas into your office layout gives employees a change of scenery and more opportunity to collaborate.
Take a break
The office break room used to be an afterthought in office design, but why not let the break room occupy prime real estate in the office? People naturally congregate in kitchens so make yours a place where employees feel comfortable enough to hang out and connect with each other. Natural light, an inspiring view, or just giving the place a cafe feel can make it a place where people naturally congregate.
Creating an environment where it's clear that employees are serious about their work, but still open to creativity and collaboration, is not just a matter of boosting productivity. It signals to potential clients and employees that you think in innovative ways and get results. Vacation is also important, here are 8 Reasons to Encourage Employee Vacations.
For more information on how to manage your workforce, check out accountingprincipals.com.