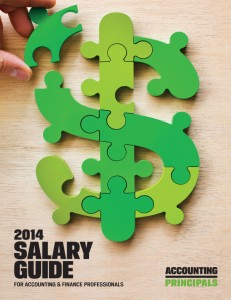 When building a great accounting and finance team, chances are that you look for people who are adept with all kinds of numbers – debts, credits, receivables, taxes, liabilities, etc. When searching for new opportunities, these top professionals are more concerned with one number in particular – the salary figure you're offering.
Our 2014 Salary Guide for Accounting and Finance Professionals can help make you an expert on today's salary expectations and trends, and it can help ensure you are offering the right numbers – to the right talent – in order to grow your business.
Here's how our 2014 Salary Guide can help:
Know precisely what to pay: The guide features in-depth salary information for hundreds of the most critical accounting and finance positions, all verified by our own internal hiring data as well as national averages provides by CareerBliss. For further accuracy, each position has compensation information broken out by company size, base salary and total cash compensation.
Furthermore, you can calculate salary information for your specific area, as we offer variances for 70 major metro markets. Thus, if you're a small-sized firm in St. Louis looking for a new payroll supervisor, or a big company in Burbank looking for a business analyst, you can drill down to find out exactly what you should be offering for these specific professionals, in your specific area, for your specific business.
Know exactly who to hire. Along with detailed salary information, the guide also contains basic job descriptions for all of the accounting and finance positions we place. For more detailed information on a particular position,  view our complete job descriptions.
Know what's happening in the economy: Find out which jobs are in-demand, learn what matters most when it comes to giving raises, and see where your peers in the accounting and finance world think salaries are headed.
The 2014 Salary Guide is available right now. Request your free copy today!