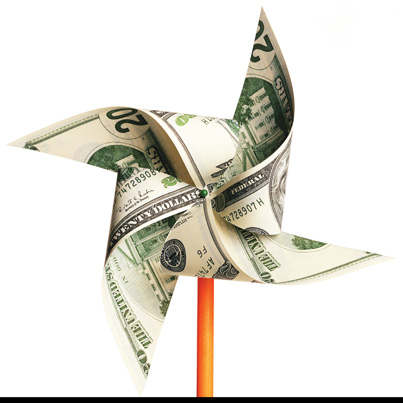 It's that time of year when you're likely contemplating a career change. Summer is beginning to wind down and  you might feel inspired to explore greener pastures. On the other end of the experience spectrum, you may be a new grad who just finished up college/grad school, and you're wondering how to apply that fancy new finance degree. Which opportunity will best prepare you for a lucrative long-term career?
It's no secret that jobs in accounting are versatile, high-paying, high-responsibility, and in high demand. But which opportunity is right for you? Money is important, but it certainly isn't everything — your accounting job should be as fulfilling as it is profitable.
Top Accounting Jobs By Salary
Job seekers, career changers, and corporate ladder climbers — here's a rundown of seven types of high-paying accounting jobs that you should absolutely explore.
Compliance Coordinator
Job Type: Clerical and Support
Avg. Salary: $47,708
Earnings Range: $30,000-$70,000
Job Description: From IT to program to budget management, these cross-functional finance professionals ensure that organizations are on par with the law. Choose your specialty — work with schools, corporations, nonprofit entities, and more. If you love numbers, organizational details, and the law, this is the job for you.
---
Financial Reporting Supervisor
Job Type: Supervisory
Avg. Salary: $86,352
Earnings Range: $70,000-$95,000
Job Description: You'll ensure that your team of finance analysts and accountants communicate the right details to the right channels. You'll make sure that your team is well-equipped for quarterly and annual statements. You'll know the ins and outs of all company regulations, professional standards, and reporting guidelines. No matter the task, you're well-equipped to enforce the rules.
---
Quality Assurance Manager
Job Type: Accounting and Finance
Avg. Salary: $103, 571
Earnings Range: $75,000-$150,000
Job Description: You're the go-to guy or gal who ensures that everything is up to par. With this accounting job, you'll manage the numbers behind your organization's contracts, vendors, and partners. You may decide to work for a drug company, tech company, or bank.
---
Auditing Manager
Job Type: Mid-level Manager
Avg. Salary: $122,322
Earnings Range: $80,000-$160,000
Job Description: You'll help your company fulfill core functions of operating controls, guideline enforcement, and processes. You'll ensure that your organization is upholding legal, functional, and reporting standard. Stick with it, and this role can put you on an executive track.
---
Top Mortgage Credit Manager
Job Type: Financial Services
Avg. Salary: $139,705
Earnings Range: $98,000-$183,000
Job Description: You'll help consumers' dreams come true by overseeing the underwriting process for mortgages and loans. This opportunity will be a key leadership role.
---
Director
Job Type: Public Accounting
Avg. Salary: $152,555
Earnings Range: $70,000-$200,000
Job Description: You'll oversee a broad range of accounting and reporting functions — your mode of execution will be your team of managers, associates, and analysts. This opportunity is a true management role.
---
Finance Executive
Job Type: Executive and Senior Manager
Avg. Salary: $303,026
Earnings Range: $100,000-$400,000
Job Description: You'll oversee your firm's financial strategy. From accounting to business analysis, and P&L reporting — you're responsible for consolidating everything.
---
Editor's Note: Accounting In Today's Workplace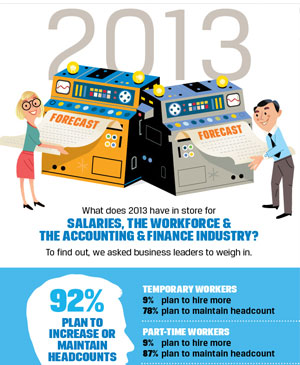 Accounting Principals surveyed hundreds of finance professionals nationwide to gain insights on the state of the finance and accounting industries — and the job outlook was bright!
Whether you're a college grad looking to launch their career, or you're a veteran looking for new opportunities, here's a few uplifting numbers for accounting in 2013:
Other great news:
Accountant jobs are expected to grow by 16% by 2020.
A 2012 survey showed that 57% in accounting feel more valued than five years ago, and…
More than 50% in accounting are happy with their boss
The path you choose now will be invaluable in determining the future and growth of your career. How do you see your own career path fitting into the current and projected workplace environment?
Are you looking for the next step in your accounting career?  Our recruiters are ready to connect you with a winning position in accounting or finance anywhere in the United States.  Get started by searching our jobs or submitting your application today!